Durga temple is the biggest and arguably the most attractive temple at Aihole. Though it is called Durga Temple, it has nothing to do with goddess Durga or Durgi. The name of the temple may have derived from the word 'durga' meaning fort. As one enters Aihole from the north, this temple is found near the fort and people should have named it Durga (fort) temple.
The most important charm of this temple for which it is celebrated is the apsidal character of the posterior part of this architecture. Generally apsidal or gajapristha form is found in Buddhist monuments. Nevertheless, this temple being non-Buddhist and yet having an apsidal posterior part is an mystery, which has not been explained satisfactorily by art historians. Conceivably one of the architects experimented with this type of plan in the Hindu temple and it did not become popular and for this reason given up. There is a comparable apsidal temple at Mahakuta, very close to Aihole which was also an primitive Chalukyan art center.
The temple consists of an apsidal garbhagriha, sabhamandapa, a mandapa and a mukhamandapa in east-west axis and the temple opens to the east. The temple has a base of six different moldings. The temple is entered through two flights of steps to the south and north of the mandapa. On the basement are square pillars all the way through the construction including the apsidal garbhagriha.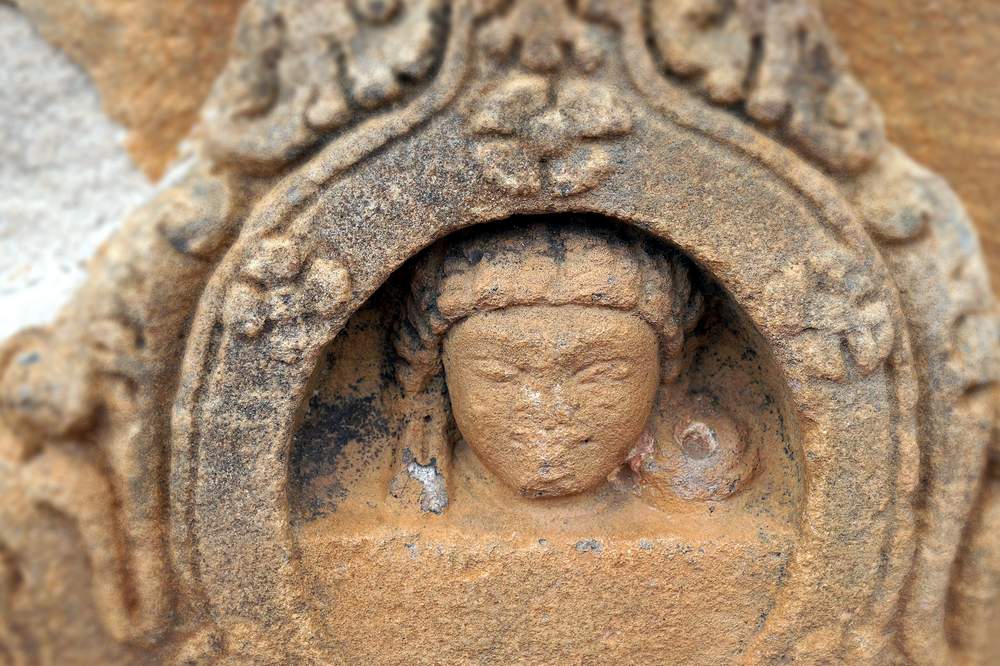 The rows of pillars contains two pradakshinapathas, which is an exceptional architectural feature. The longish sabhamandapa has been divided into three portions by its pillars. The large number of pillars in this temple have been utilized by the artists to carve a large number puranic stories and self-supporting sculptures. These sculptures are of high order and add refinement and charisma to this temple.
On the pillars of the mukhamandapa are found passionate couples in various suggestive poses. On another pillar is found Shiva dancing on apasmara. The inner wall of the mukhamandapa has Ramayana panel, Ardhanarisvara and Ugranarasimha killing Hiranyakashipu. The front entrance of the mandapa is well carved with dvarapalas, Yamuna and Ganga, and further sculptures.
Unfortunately, there are no inscriptions to date this temple. Derived from stylistic evidence, various dates have been assigned to this temple. While many scholars consider 600 C.E. as the date of this temple, some others assign it to seventh century C.E.