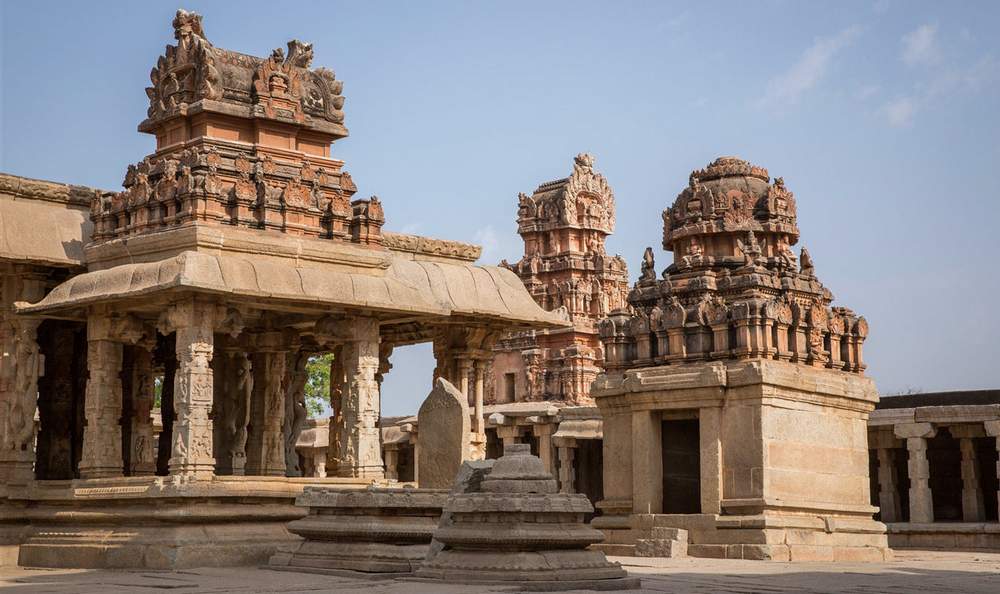 Krishnadevaraya, the most celebrated king of the Vijayanagar dynasty, invaded Udayagiri kingdom in modern-day Orissa in 1513 A.D., and conquered the Gajapati ruler there and brought an image of Lord Krishna as war trophy. He built a temple to house this image at Hampi and it is famous as Krishna Temple.
Krishnadevaraya even minted gold coins with a portrait of Balakrishna to celebrate this remarkable event. The entire temple is built in the centre of an enclosure, which measures 88 and 60 meters in length and breadth respectively. The entire structure is surrounded by a tall prakara wall, which opens to the east, north, and south.
Krishna Temple is built of granite and consists of a garbhagriha, an antarala, an ardhamandapa, a sabhamandapa and a mahamandapa. All these are enclosed within a high prakara wall with a mahadvara, which has a gopura built of brick and mortar. The gopura is in ruins but it contains some good stucco figures associated with Krishna.
The square garbhagriha is bare now, as the original image of Krishna has been removed. It is made out of greenish black granite showing Krishna as a child seated on a pedestal. The front entrance is well decorated with Vaishnava dvarapalas on either side and Gajalakshmi on the lintel. The sabhamandapa has four central pillars with relief sculptures of Garuda, Hanuman, Krishna as Kalingamardana, etc.
The mukhamandapa is an graceful structure with 32 pillars with entrances at north, south, and east. These tall and lean pillars have fine sculptures of Vaishnava deities. There is a garuda mandapa of Dravidian type and a dipastambha (lamp pillar) in its front. At the four corners of this temple once stood small shrines intended for subsidiary Gods. However, they are derelict now. The composite pillars and pillars with horses and yalis add exquisiteness to the temple.
This temple is famous for the huge gateways at north, south, and east. The eastern gateway or the mahadvara is enormous and graceful and perhaps one of the best specimens of that type in Hampi. Thus, Krishna temple was one of the most popular temples at Hampi built by the most famous king Krishnadevaraya of Vijayanagara Empire.