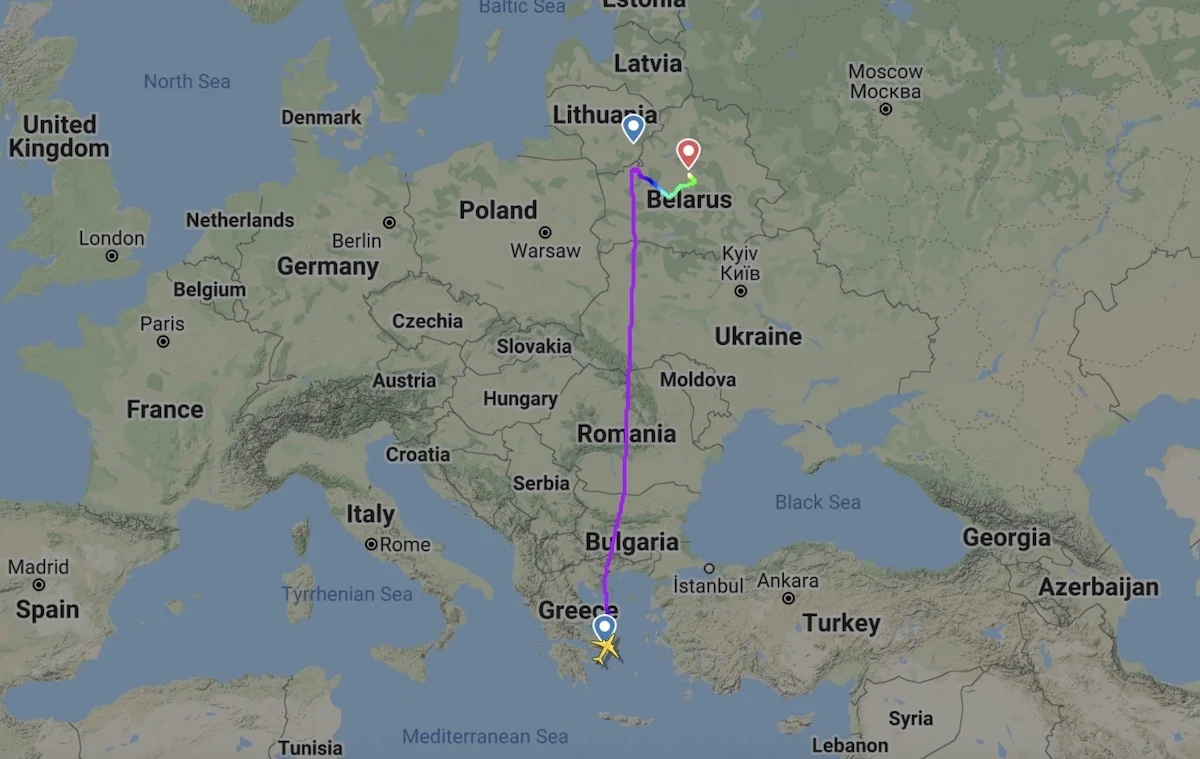 Belarus's forced diversion of a Ryanair plane bound for Lithuania, accompanied by a fighter jet to Minsk to grab a dissident journalist onboard, has provoked international criticism of Belarus's leader Alexander Lukashenko.
On 23-May-2021, Ryanair airplane FR 4978 was forced to land in Minsk airport to detain a dissident journalist on board. The plane was en route from Greece to Lithuania when its crew was commanded to land at Minsk and escorted down by a Belarusian fighter jet.
The Ryanair flight with about 170 people on board left Athens on Sunday morning bound for Vilnius, but it abruptly headed east just before the aircraft entered Lithuanian airspace. According to Ryanair, the crew was alerted of a potential security threat and ordered to land at Minsk. For good measure, a Belarusian warplane armed to the teeth was dispatched to escort the aircraft in. However, no bombs were found on board. Instead, the journalist Roman Protasevich and his girlfriend were taken off the plane and arrested.
According to the Belarus state news agency, Roman Protasevich is a well-known Belarusian opposition journalist. Protasevich founded the blog and Telegram channel NEXTA, which has tens of thousands of followers on Twitter and played a crucial role in organizing anti-government protests last Fall. Belarus's authoritarian president, Alexander Lukashenko, is believed to have ordered the operation personally. He has faced growing opposition since disputed elections last year.
Michael O'Leary, CEO of Ryanair, spoke to the Irish independent radio station Newstalk on 24-May-2021, calling the diversion 'state-sponsored hijacking':
Newstalk: Can I start by asking you if your flight that was intercepted going from Greece to Lithuania intercepted over Belarus—your reaction to that? This must be the first time this has ever happened to a Ryanair flight

Michael O'Leary: I think it's the first time it's happened to a European airline, but I mean, this was a case of state-sponsored hijacking, state-sponsored piracy. But unfortunately, I can't say much about it because the EU authorities and NATO are dealing with it at the moment. We're debriefing the crews. our crews did a phenomenal job to get that aircraft and almost all the passengers out of Minsk after six hours, but we have to do a detailed debrief today with the NATO and EU authorities

Newstalk: I understand you're restricting what you can say. it must have been very stressful for everybody, but particularly I presume for your staff—the pilots and crew—because it must have been very frightening for them

Michael O'Leary: I think it was very fighting for the crew for the passengers who were held under armed guard had their bags searched .when it was clear, it appears that the intent of the Russian authorities was to remove a journalist and his traveling companion. You know we believe there were also some KGB agents offloaded off the aircraft as well.

Newstalk: So your understanding is that where agents on board as well. Will it change your plans in terms of flying over Belarus? Will you make any changes to your schedules? What do you think?

Michael O'Leary: Like all the European airlines, I think we are looking for guidance today from the European authorities and NATO. If we are directed, we've asked them should we fly around Belorussia. We don't fly over Belorussia much, and it would be a very minor adjustment to stay fly over Poland on those routes and but we will take our lead from the European security and safety agencies.
"Strong" responses by governments and airlines is unlikely to affect anything and But implementing effective international sanctions will prove difficult. The Economist notes, "perhaps the most depressing thing about the weak EU response is that Mr. Putin may draw from it the conclusion that he could get away with a similar action. It is easy enough for EU planes to avoid Belarusian airspace. Avoiding Russia would be an awful lot harder."