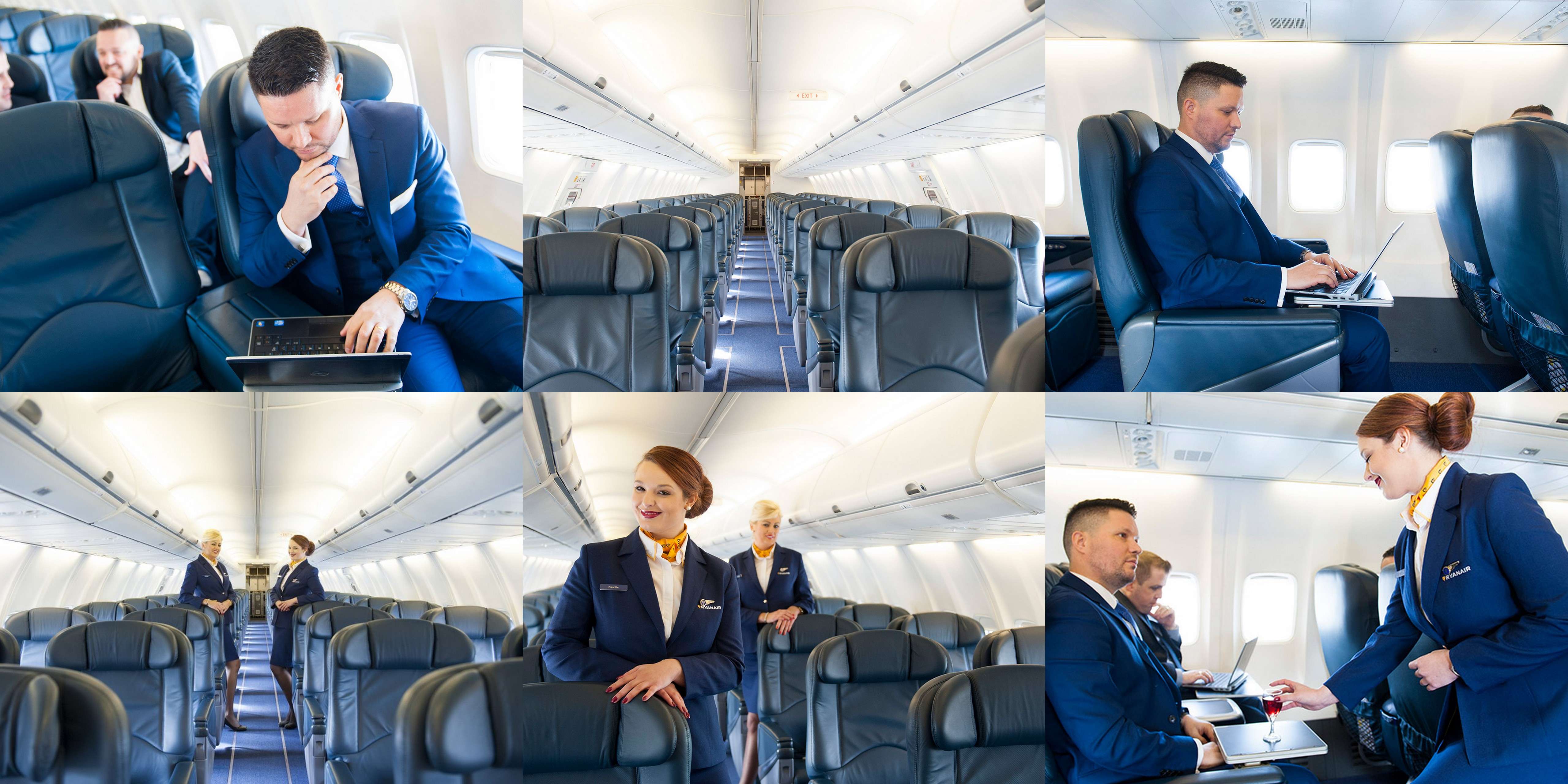 Ireland's ultra low cost carrier Ryanair has converted its only B737-700 aircraft (registration EI-SEV) to a corporate jet with 60 seats in the cabin. The aircraft is now is a 2 x 2 configuration. The specifications are:
60 passengers, all business class,
Seats: 2 x 2 seating with 48″ seat pitch, leather reclining seats
Crew: Ryanair's pilot and cabin crew
Range: 3000 nm range, 6 hours at 500 mph cruise speed
Catering: available
Previously, this aircraft already in complete Ryanair livery, was used for training, and may have it has covered a couple of scheduled services. Perhaps the aircraft will be in demand when soccer teams have to play in far-flung eastern European destinations. Ryanair also aims it at sports teams, travel groups as well as business customers. Ryanair will price the services of this aircraft on a cost-per-hour basis, and depending on the departure and arrival airports, the rates could be the most competitive in Europe.
Ryanair's corporate jet charter is akin to similar services offered by Korean Air (16 or 28-seat 737 Business Jet), Emirates (19-seat A319 Executive Jet) and Qatar Airways (40-seat A319.)
For the summer season, the Boeing 737 corporate jet will be used as a normal passenger aircraft with 149 seats for training and as a backup aircraft for routes between the UK and Ireland.
Ryanair exclusively flies Boeing 737-800 aircraft, of which 320 are in service and 153 in orders, as on 10-Mar-2016. Ryanair is also the launch for the 197-seater Boeing 737 MAX 200 aircraft with options for an additional 100 aircraft of this subtype—all to be delivered between 2019 and 2023. The MAX 200 aircrafts hold eight more passengers than the popular Boeing 737 MAX 8 aircraft. This subtype includes a mid-exit door to increase the exit limit. With eight additional seats than the standard 179-seater MAX 8, Boeing claims that the MAX 200 airplane offers 20% superior operating cost efficiency in comparison to the Ryanair's staple, the 737-800. The front and rear galley spaces are removed and the lavatory space is repositioned to the rear of the aircraft. Surprisingly, Ryanair claims that the seat pitch will stretch to a tad over than 30 inches.
Michael O'Leary, Ryanair's CEO, had been pushing for a maximum-density 737-800 aircraft for ten years. Beyond 200 seats, Ryanair will need a fourth flight attendant on its aircraft. Although Boeing claims that 35% of the worldwide market demand for single-aisle aircraft will in due course lie with low cost carriers (LCCs,) for which the MAX 200 is intended, Ryanair is the sole customer thus far for the Boeing 737 MAX 200. News emerged in March 2015 that Boeing was presenting some airlines with concept of 737-8ERX, a longer-range version of the 737-8 MAX.
Ryanair owns three Learjet 45 aircrafts, which are based at its prominent bases in London Stansted (STN) Airport and Italy's Bergamo Airport (BGY, 45 km northeast of Milan.) These aircrafts carry Isle of Man registrations M-ABEU, M-ABGV, and M-ABJA. They are primarily used to rapidly transport aircraft parts and maintenance personnel around Ryanair's ever-expanding network. The number of aircrafts in order is testimony to the ambition of Ryanair to accelerate its traffic growth modestly. Ever since transforming in the LCC paradigm in the mid 1990s, Ryanair has mostly operated a single aircraft type, thereby providing economies of scale and flexibility in terms of aircraft deployment, maintenance, crew scheduling, and training.
Ryanair has unit costs that are lowest of any European airline and one of the lowest of any airline on the planet. Ryanair has a level of unit cost that is unlikely to be equaled by competitors in Europe and so other airlines are doubtful to be able to contend with it on price.