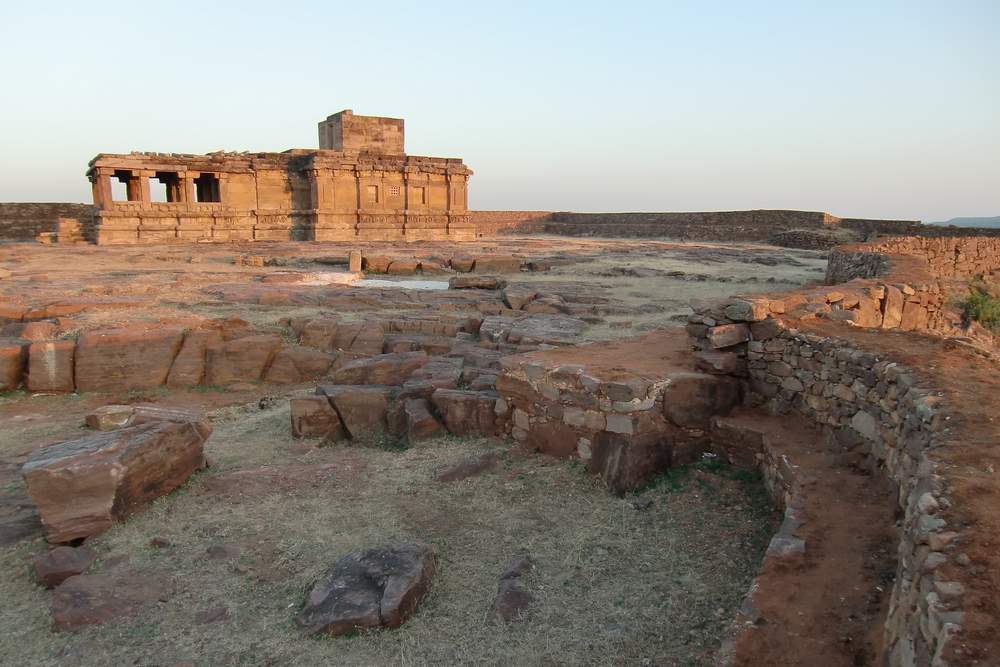 Aihole, ancient Ayyavole, now in Bijapur district was a great centre of early Chalukyan architecture. In fact this was the cradle of Chalukyan temples. Literally more than one hundred early-Chalukyan temples were built here in the sixth and seventh centuries CE.
Meguti temple is one such temple at Aihole. This temple is built on a hillock and looks prominently even from a distance.
The Meguti Temple is also famous in Indian history and literature for the inscription written by the celebrated poet Ravikirti. This inscription mentions Kalidasa and Bharavi by name and for this reason highly useful for fixing the date of both these poets as the inscription is dated 634–35 CE. From this evidence, it becomes comprehensible that this temple was built in 634–35 CE. It also gives a graphic description of the eminent conquests of Chalukya Pulakesi II.
This is a Jain temple and stands on a basement of 4 ft and faces north. The temple consists of a garbhagriha, pradakshinapatha, antarala and a mandapa. The outer wall of the temple consists of two thick decorated moldings. The mandapa portion is open with square pillars above the moldings. Below the base moldings are carved chaitya type niches, amorous couples, musicians playing on musical instruments and wrestlers.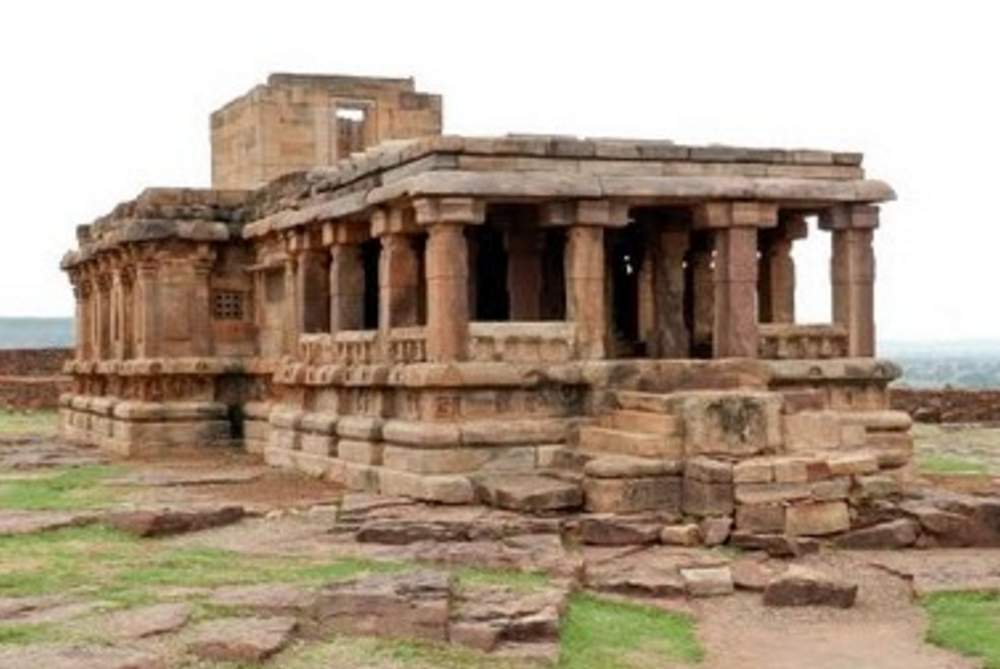 The square garbhagriha has a sitting tirthankara under a tree. Some scholars recognize him as Mahaveera. He is flanked by two chauri bearers on each side. Above the garbhagriha is another garbhagriha, which can be entered from the sukhanasi. In general, Jain temples (basadi) contain two garbhagrihas one over the other. On the western sidewall of this, is a very beautiful female sculpture which may be either Ambika or Siddhayika or Sujata. On her sides are chamara bearers and below are the sculptures of monkey and a swan. The upper garbhagriha has no sikhara over it. Its walls are also unadorned except niches, which are now empty.
Though this temple is not highly attractive from the point of view of the embellishments and decorations, it is notable in understanding the evolution of early Chalukyan art under the background that this is a dated temple assignable to 634–35 CE. This is the earliest dated temple of the Chalukyas of Badami.
This is one of the early temples where the Chalukyan architects were making experiments in the construction of a perfect temple. From the famous Ravikirti's inscription this temple is better known than others.