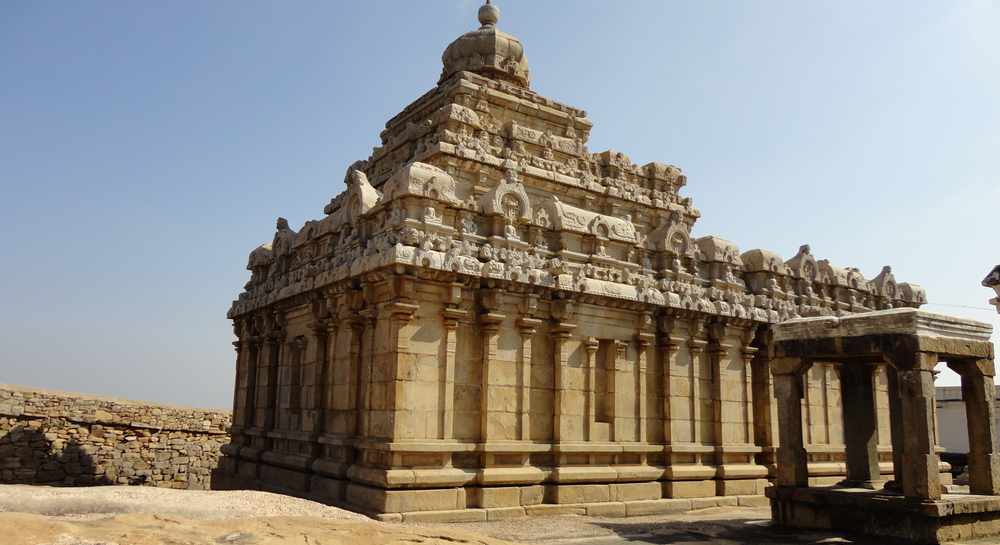 Chamundaraya Basadi in Shravanabelagola is one of the largest Jaina temples on the hill both in style and in decorative features. The temple is 68 feet long and 36 feet wide. The temple consists of a garbhagriha, a sukhanasi, a navaranga and a mukhamandapa. It has an upper story above the garbhagriha and a Dravadian sikhara. The outer walls have decorations of pilaster over which are three friezes containing ornamental niches, yalis, and seated Jaina figures. The outer wall of the upper garbhagriha also has similar three friezes over which l is a simple Dravidian sikhara. These moldings attract the visitors even from a distance.
The mukhamandapa rests on four pillars with sloping eave on all the three sides. Thus the whole temple is very elegant. The lower part of the temple is interesting. It has undecorated flat base with neatly cut roundish and projected molding above. There is a similar but smaller molding above. Between the two moldings is a hollow flat surface with minor decorations. Then rises the wall with pilasters, and the highly decorated eave is prominent at the roof level. This is the most decorated part of the structure and adds a special grace.
At present there is a sculpture of Neminatha in the lower garbhagriha, five feet in height, flanked by male chauri bearers on either side. The garbhagriha doorway is decorated and has Sarvahna yaksha and Kushmandini yakshi. It is believed that this Neminatha image originally belonged to another temple but now kept here. The upper garbhagriha has an image of Parsvanatha of three feet in height. Its pedestal has an inscription which states that Jinadeva, son of the minister Chamundaraya built this Jina temple. Perhaps this refers to the consecration of the image in the upper garbhagriha.
The inscription on the pedestal of Neminatha states that it was consecrated by Echana, son of minister Gangaraja of the Hoysala period in 1128 A.D. From all these evidences it becomes clear that Chamundaraya built this temple in about 982 A.D., and the upper story was added by Chamundaraya's son Jinadeva in 995 A.D., and the present image was brought from some other temple and consecrated in 1128 A.D. The very fact that it is named after Chamundaraya be taken as an evidence to say that it was built by him, who also set up the great colossus of Gommateshwara here.