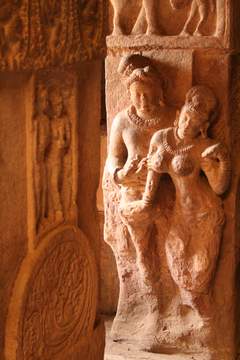 Pattadakal was a city bubbling with political and artistic activities throughout the time of the Western Chalukyas of Badami more than eleven centuries ago. Situated on the left bank of the river Malaprabha and contained by hillocks of red sandstone amidst scenic splendor, this location became sacrosanct and it was the sincere choice of the kings to carry out the numerous coronation (patta) ceremonies and hence it came to be called Pattadakal. It is also called Kisuvolalu and Sanskritised as Raktapura.
Along with Aihole and Badami, Pattadakal became a cradle of early Chalukyan temples. It is generally believed that the Chalukyan architects made experiments with various styles of architecture even before the silpashastras standardized them. Hence, scholars are fond of calling these places as workshops of architecture.
In point of fact, Pattadakal represents the final or culminating phase of the early Chalukyan style of architecture. There are no less than twelve worthy temples of the Chalukyan period at Pattadakal.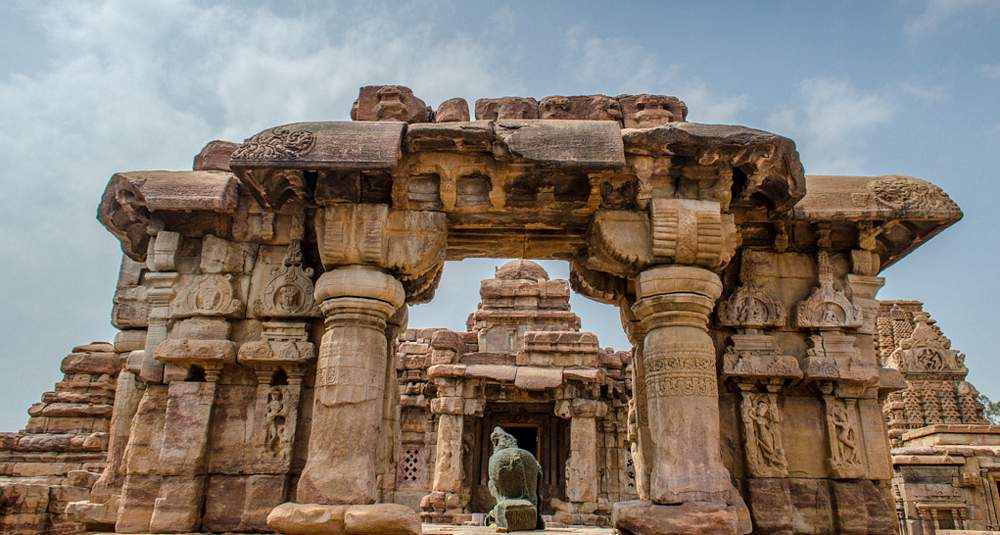 Both Dravida and Nagara type of temples were built at Pattadakal during the reign of the early Chalukyan kings. Sangamesvara, Virupaksha, Mallikarjuna and Jaina temples belong to the Dravidian technique, whereas Galaganatha, Papanatha, Kasi Visvesvara, Kadasiddesvara and Jambulinga temples belong to Nagara or north Indian style.
From the sequential standpoint, the temple building- pursuit as known from the dated specimens started here from the beginning of the seventh century and sustained up until the middle of the ninth century CE.
Thus, three hundred years and more saw a splendid epoch in the evolution of temple architecture in Karnataka in general and Pattadakal in particular.
There were master architects like Revadi Ovajja, Anivarita Gunda, supported by sculptors like Changamma, Pullappan, Baladeva, et cetera. It also had the guidance of dance masters like Achalan and devadasis like Chalabbe. More than all, the early Chalukya kings, their queens like Lokamahadevi and Trailokyamahadevi and others, officials and ministers not only helped in building some of these Pattadakal temples but also gave generous grants of land and money for the fitting maintenance as well as the rituals in these temples.
It is but natural that hundreds of visitors both from India and abroad visit these exquisite temples and get a glimpse of our heritage. Hence, UNESCO has declared Pattadakal as a World Heritage site, a great honor indeed to Karnataka.