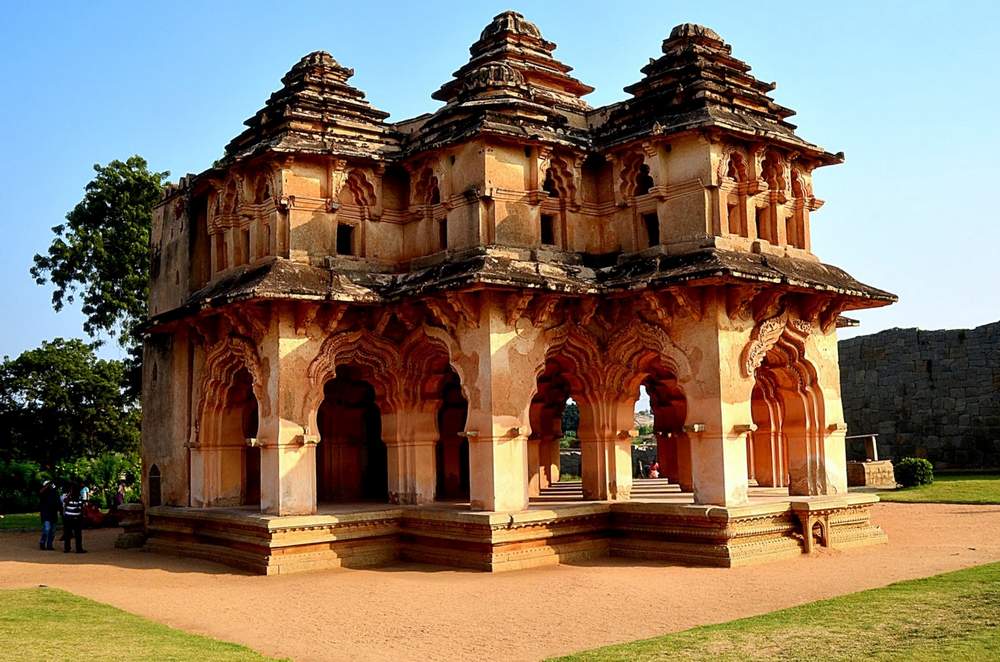 Lotus Mahal (or Kamala Mahal) is perhaps the most elegant stucco pavilion at Hampi, capital of the famous Vijayanagara Empire of South India. Additionally, it is an excellent example of a well-balanced mishmash of Indian and Islamic (or Sarcenic) architectural style.
Ground Floor of the Lotus Mahal, Hampi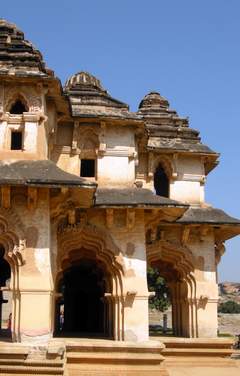 The structure of the Lotus Mahal is built of brick and mortar with smooth and glossy plaster finishing. Yet, the platform or the basement of the building is built of stone. It has indented outlines with sharp corners, with excellently bedecked moldings at the bottom on all the sides. The structure has two stories.
The ground floor is not closed in any direction. It has cusped arches with fine decorations over which exists a sloping eave, surrounding the building. The ground area has a pavilion or a spectator section, which was used by the royals for pastime and for congregation.
The ground floor is raised on a high and ornamental stone basement with doubly recessed angles, which makes the plan of the building somewhat different, and many art historians have marveled at this architectural feature.
First Floor of the Lotus Mahal, Hampi
There is a staircase to go to the first floor. The first floor is a closed pavilion with many rectangular windows with separate arches at the top. Each of these windows had wooden shutters, which is not very a common feature. Possibly the royal women used this.
The upper floor also has a sloping eave running around the building. The graceful roof contains nine superstructures, which bear a resemblance to closely the sikharas of Hindu temples.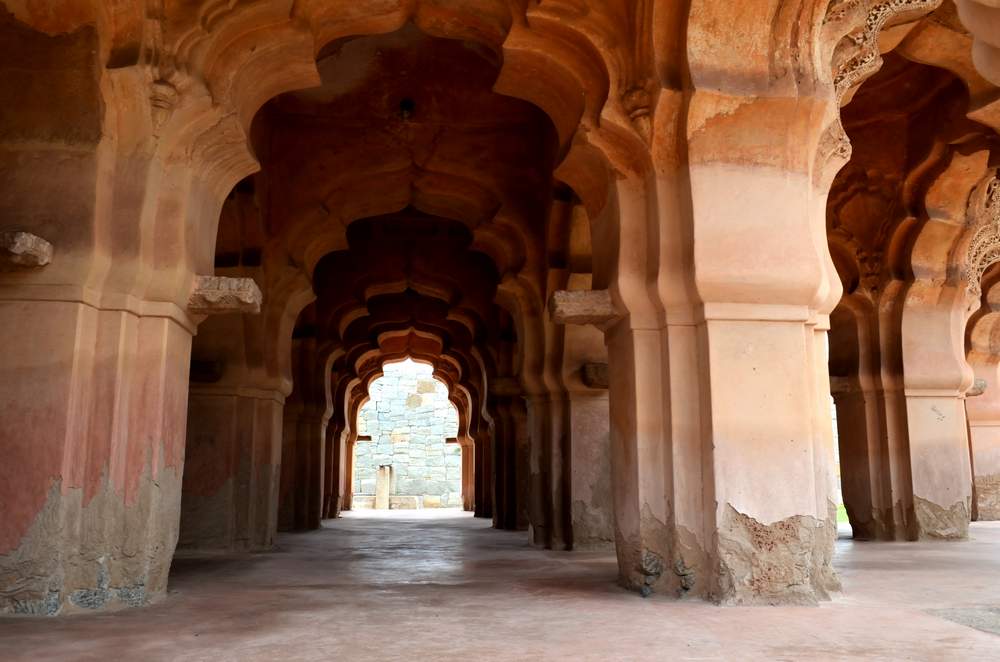 The interior of the upper storey consists of an indented hall with four pillars in the centre with niches. The interior walls consist of finely carved floral designs of a high order. While the pillars and the arches exhibit Islamic architectural characters, the base, the roof the superstructures, cornices and stucco ornaments are Hindu in character.
Well-Designed and Toned Architectural Features
This harmonious architectural combination of features has made the Lotus Mahal distinctive at Hampi. Actually, it is an appealing and a long-awaited combination of two different styles of architecture during the Vijayanagara period.
This elegant building was perhaps used entirely by the royalty as a pleasure pavilion with open space at the ground level and some amount of privacy at the first floor. Thus, its name Lotus Mahal or Kamala Mahal is entirely appropriate to this elegant structure.