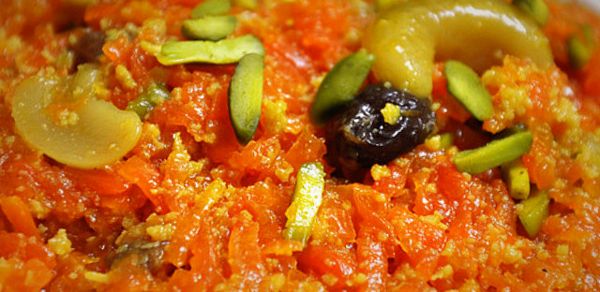 In the Indian tradition, women learn how to cook from their mothers and their mothers-in-law. Historically, women learned how to run a household and women in elite and upper middle-class families oversaw servants who did the cooking. Every home therefore has collections of interesting traditional recipes. The family's recipes tell a story, the story of how people lived and cooked at a particular point in time.
The nuances in recipes tell about a family's place in the social order, their enthusiasm for serving others food as they engage with others in their social class. In India, food can be anything from hunger-satisfier, hedonistic stimulation or merely an object of intellectual and social curiosity that delights the mind and body far from the family's dining table with one overwhelming bite after another.
Carrot Halwa is a rich concoction of milk-boiled grated carrot and syrup flavoured with cardamom powder. It is a very popular dessert in several parts of India. Across India, the carrot halwa is a cultural phenomenon. Made with various practices and conventions, flavor preferences of carrot halwa is influenced by cultural factors. And these delightful tastes evolve over time with social intermingling and cross-breeding of cooking traditions.
Ingredients
Carrot: 2 lb, finely grated
2% Milk: 1/2 of the volume of carrot
Sugar: 1/2 of the volume of carrot
Half-and-Half: 1/2 a cup
Ghee (Clarified Butter): 5 tsp (can substitute with butter)
Raisins: 5 tsp
Cashew nuts, pistachios, almonds: 10 tsp (broken into small pieces)
Cardamom powder: 1/2 tsp
Method
Take a sauce pan and heat 2 teaspoons of ghee; fry raisins and cashew nuts on low heat until lightly roasted. Keep aside.
In the same sauce pan, add grated carrot and milk and boil on a low flame until all the milk evaporates and the mixture looks dry. Keep the sauce pan open during this process; keep stirring regularly.
Add sugar and half-and-half to the boiled carrot, keep stirring until all the sugar melts.
Continue to stir regularly until about 80% of water in the sugar has evaporated.
Add cardamom powder, the remainder of ghee and the roasted raisins and cashew nuts. Stir thoroughly and continue to evaporate the rest of the water in the mixture.
When most of the water has evaporated, switch off the flame and stir. Do not allow the mixture to become hard. Remove the sauce pan from the stove, close the sauce pan and keep aside for 10 minutes.
The carrot halwa is now ready. Serve it warm or chilled.
Notes
Makes 5 servings
Cooking time: about 75 minutes; slower the cooking, tastier the halwa.
Adjust sugar based on preference.
Grated carrot can be substituted with grated white pumpkin for another very popular dessert known as Kashi Halwa (named after the town of Kashi, a legendary city in the location of modern-day Varanasi and a prominant pilgrimage centre in India).
To make Carrot Burfi, continue to heat the preparation on low flame. Take a plate and apply some ghee/oil to the surface of the plate and transfer the mixture on to the plate to prepare a fairly dense bed. After the halwa solidifies down, cut the bed into rhombus shaped blocks using a knife.