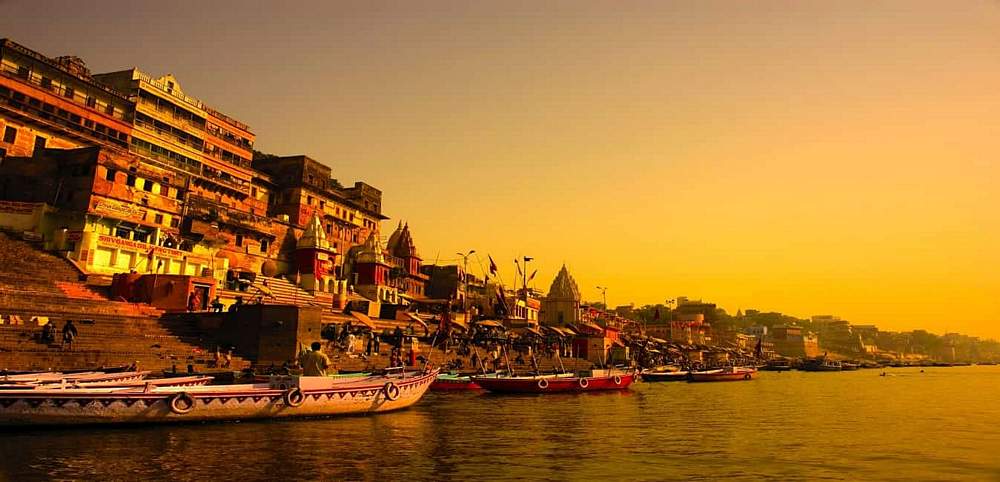 Banaras (also Kasi or Varanasi) is a tirtha, a religious pilgrimage city on the sacred Ganges River in northern India. Pilgrims come from all over India to cleanse in the river at Banaras.
Banaras is the most distinguished and consecrated of the seven ancient holy cities of India, stationed on the west bank of the Ganga (Ganges) in modern day Uttar Pradesh in India.
Lionized in numerous Hindu texts, it is the emphasis of a whole series of homologies which at the same time place it at the center of the world, make it the complete cosmos and position it as the ford or doorway to heaven or liberation (moksha). This last transition is thought to be ensured by dying there—the explicit aim of many ageing and sickly pilgrims. Theoretically, the entire city may consequently be viewed as one great cosmic cremation ground.
Banaras is also an ageless center of long-established Sanskrit learning, since 1916 Varanasi has been home to what is now the biggest residential university in India, Benares Hindu University.
Ingredients for Banarasi Pilau
1.25 cups long grain basmati rice
3 tsp vegetable oil
1 tsp cumin seeds
3 cloves
3 cardamom pods
2 bay leaves
1 cup peas, thawed if frozen
3/4 cup carrots, cut into small cubes (about 2 carrots)
2.5 cups hot water
2 strands saffron
3/4 tsp salt, to taste
2 tsp nuts, such as pistachios or cashews, sliced
Procedure for Banarasi Pilau
Wash the rice in several changes of warm water and leave to soak in cold water for half an hour. Drain in a sieve.
Heat the oil in a heavy pan and add the cumin seeds, cloves, green cardamom pods, bay leaves
After about two minutes add the rice and stir gently on medium heat.
When all the grains are coated with oil) this usually takes three minutes, add the peas and carrots and pour the hot water. Add the saffron and salt. Stir and adjust the salt if necessary before leaving to cook uncovered on medium heat for 10 minutes. When most of the water has been absorbed, cover, lower the heat and continue cooking for a further 8-10 minutes.
Fluff up the rice with a fork prior to serving.
Sprinkle over the sliced nuts and serve piping hot