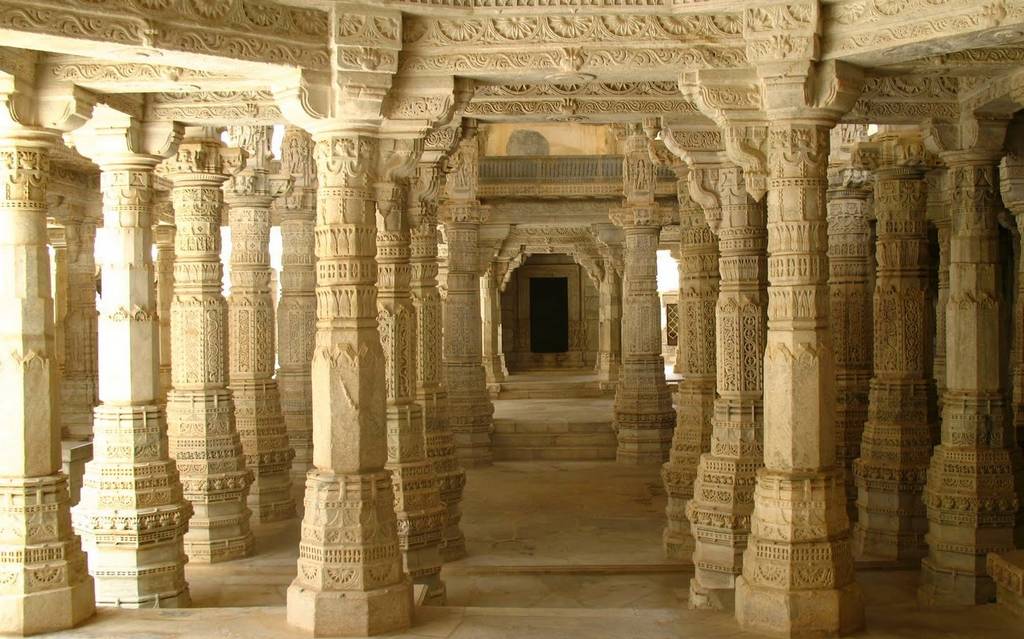 Deep in the Aravali hills of the northwestern state of Rajasthan in India, between Udaipur and Jodhpur, stands the stunning fifth-century Jain temple of Ranakpur. Carved exclusively out of white marble and surrounded by green forest, the temple surveys its surroundings in each of the cardinal directions from its chaumukha, or "four faces". Fortress-solid, great slabs of stone rise out of the ground to hold up the bulk of the temple's extravagant exterior, a flamboyant edifice of cupolas, domes and turrets of soft grey marble.
In the interior, 1,444 intricately carved pillars hold up the roof, each one unique in its design. Soft light filters through the marble, changing its color from grey to gold, as the sun moves across the sky. Only the saffron and red fabrics of robes brighten up the surroundings as the monks and pilgrims pass between the pillars, through pools of light into shadow.
In the 15th century a Jain businessman named Dharma Shah had a vision that he should build a magnificent temple in honor of Adinath, the first Tirthankara (enlightened being) and founder of Jainism, also known as Rishabhadeva. He approached the local monarch, Rana Kumbha, to ask him for land on which to build. The king obliged him, and the temple was named "Ranakpur" in gratitude for his munificence.
The result is one of the most pleasant religious edifices in India. The temple is still in constant use and visitors are welcome, although, according to the Jain principle of ahimsa (non-violence to all things), they are asked not to bring any leather into the temple, including shoes. As you walk through Ranakpur, past delicate marble carvings and solemnly praying monks, the loving artisanship of so many individual souls is striking, and the atmosphere of devotion utterly absorbing.