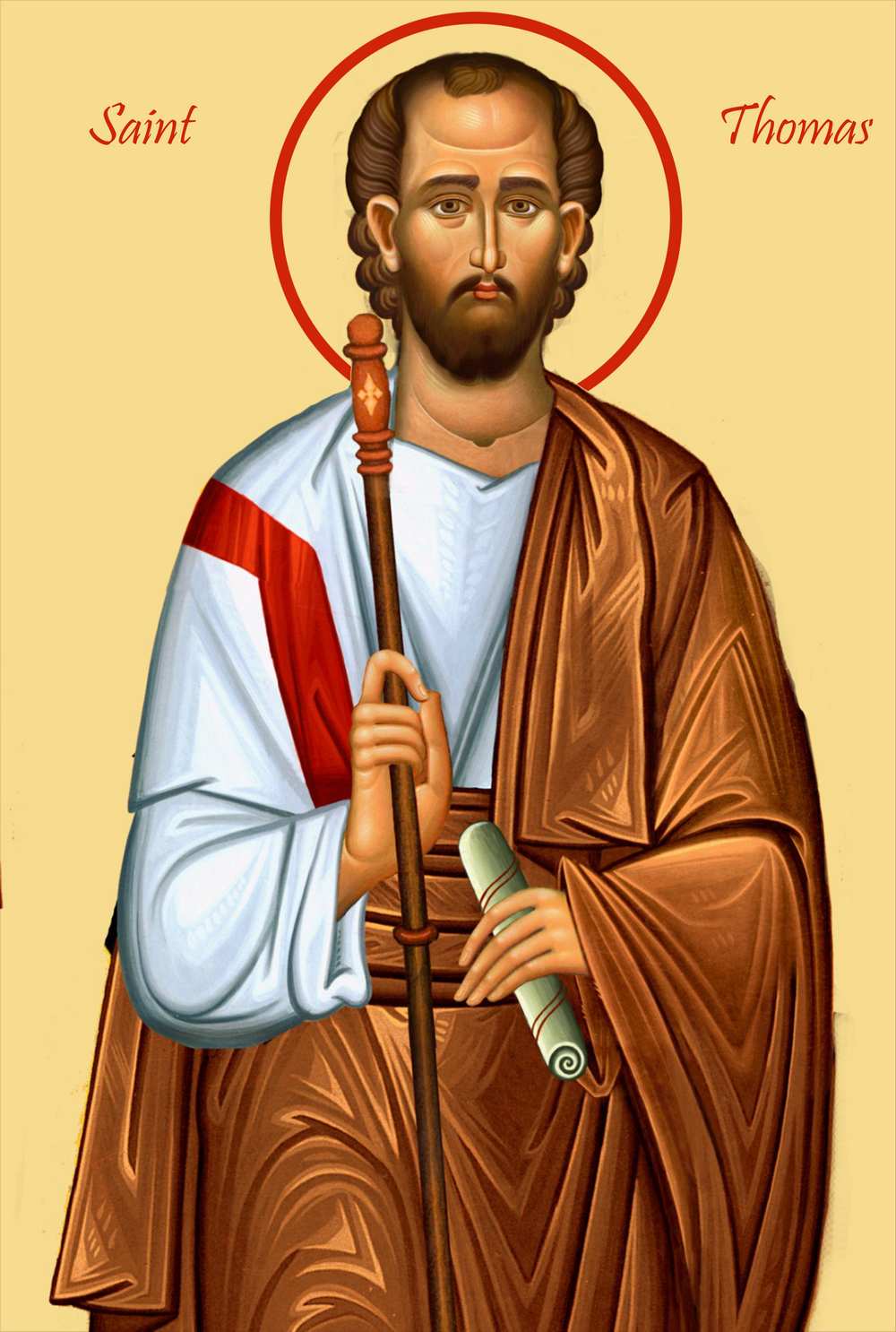 The holy apostle Thomas is perhaps best remembered as "Doubting Thomas"—the apostle who, when told of the emergence of the risen Christ, declared, "I will never believe it unless I see the holes the nails made in his hands, put my finger on the nail-marks and my hand into his side" (John 20:25.)
Thomas' reaction was definitely practical; perhaps the others overcome with grief were deluding themselves. He had witnessed the tragic death of his beloved master; how was he now to believe that Jesus was alive? Thomas wanted the same astonishing experience as the rest; he wanted proof. When Jesus did appear to him, and Thomas saw the same tortured body that had suffered on the cross, he was overpowered, and cried, "My Lord and my God!" (John 20:28) Thus, Thomas was one of the first to explicitly express Jesus' divinity.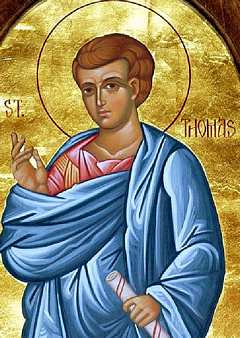 Yet Thomas was not only clearheaded, but also brave. During the winter, Jesus was forced out of Jerusalem for his teachings. Now, Jesus and his apostles were aware that if he returned, he and perhaps they would be killed. (John 11:8) Then a few months later word came that Jesus' great friend Lazarus was gravely ill. The message spoke of illness, but Jesus knew that by the time the news arrived, Lazarus was already dead. Yet Jesus prepared to go to his friend in Bethany, some two miles from the city of Jerusalem, regardless of the risk to himself. Alarmed, the apostles argued against it; why go, they reasoned, if Lazarus was dead? It was Thomas who rallied the others, insisting, "Let us also go, that we may die with him." (John 11:16) Here Thomas is not a man of doubt, but of great courage and loyalty.
Several Apocryphal works have circulated under Thomas' name. The Apocryphal works of Thomas: Acts of Thomas, Apocalypse of Thomas, Infancy Gospel of Thomas, Book of Thomas, and the Gospel of Thomas. There is much written about his fearless evangelical work and more speculation about his extensive missionary travels than any other of the Twelve. The church of the East and Assyria trace the succession of its bishops back to Thomas.
Apostle Thomas in India
Western India claims him as the founder of the early Christian church. The Acts of Thomas opens with a gathering of the apostles in Jerusalem. They are dividing the world by lot to evangelize. When Thomas receives India, he objects on the ground of his ethnicity: "How can I," he protests, "as a Hebrew man, go among the Indians to announce the truth?" As a follower of Jesus in India, he is a minority of one, not just linguistically, but spiritually too. Eventually, his goal is to bring that huge majority of unbelieving Indians over to his side, to transform isolation into predominance, into a network to which all can belong. According to tradition, Saint Thomas was supposedly killed at St. Thomas Mount, near Chennai, in 72 A.D. and his body was entombed in Mylapore. Ephraim the Syrian states that the Apostle was martyred in India, and that his relics were removed then to Ede.