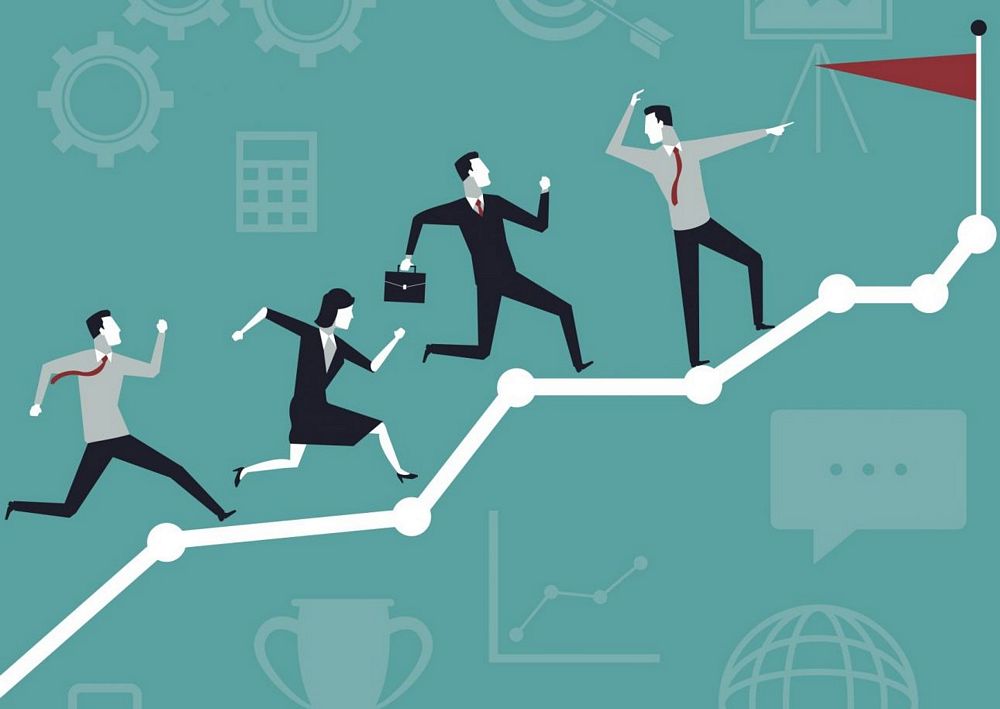 My Personal Leadership Journey
For the past 30 years, I have worked in business, primarily in energy, but here I share a few aspects of my personal leadership journey over the past six years and how that journey has changed my outlook on life.
You are leaders with your own roles and responsibilities. Your journey will be unique; however, I believe that we share many concerns in common. At times leadership can feel overwhelming. There are so many practical issues-how to communicate, coach, and develop strategy. But there are other, more fundamental questions-like "why lead?" or "why continue leading?" or "Am I doing the right thing?" or "How do I find meaning, purpose, and joy in my leadership?" These are the questions we all have to answer for ourselves.
Leadership can be very rewarding-personally, professionally, and financially-but it can also be very challenging. Nothing is ever quite right. There are many setbacks and sacrifices. We often get caught up in the struggle without reflecting on the greater meaning of our journey.
Even after becoming a successful entrepreneur, I wrestled with "why?" questions. In fact, they seemed even more pressing. When you don't have to work anymore, you can get very honest with yourself. The questions are still there-no matter how far along the leadership path you go. But the further you go, the better the answers have to get. Beyond words that sound right, the answers have to be deeply meaningful to sustain you.
I set many business goals, and am proud of what I helped to create. I experienced much satisfaction from our achievements. But "more of the same" didn't seem like enough. I was seeking more important insights. Our lives and businesses are very complex. But I came to feel that the real answers should be simple. Truth, I believe, is simple, and the messages of great leaders are simple and clear.
Four Leadership Lessons
One catalyst in this process was my attendance at the Global Institute of Leadership Development conference five years ago. Warren Bennis was a cohost, and I was impressed with his wonderful example of leadership and inspired by his ideas. The theme that had the greatest impact on me was "find your leadership voice and passion." His message spoke to me. I asked myself, "Have I really done that?" It seemed to require using more parts of myself. The more aligned we are with our unique abilities and talents, the better everything seems to work. And fully expressing ourselves suggests values and beliefs-even spiritual qualities.
At that time, another story line developed that became the source of many new insights that helped change my life and my leadership. It started with plans for the new Millennium in 1999.1 initially had a fun idea to charter a yacht in the Caribbean, but it became something much more meaningful. My family planned to contribute to the building of a 150-bed hospital in southern India. Over the last six years, this has led to involvement in building a school, a seva hall to feed the poor, and a spiritual park to nourish peoples' souls-among other projects. Despite all the project activity, visiting this area of India is very rejuvenating for me. In fact, a one-week trip around the world to India is more restful for me than a week in Hawaii.
Through my experience in India, I learned four leadership lessons:
Lesson 1 in Purposeful Leadership: Joy
As the locals, as well as people from around the world, came to help us with our projects in India, they worked long and hard, but with joy and passion. Now, I'm familiar with "24/7" work from the investment banking world; however, these people also seemed to find meaning and joy. Their mode of operating seemed to be not only a more enlightened way to live, and pointed to a more effective form of leadership.
Happiness is good, but it's fleeting. It may be the feeling you get from buying a new car, or house, or getting a new job or promotion. The feeling lasts for awhile, and then passes. You then need a new acquisition or achievement. It's externally bound.
Joy is deeper, fuller, more sustaining. It's a feeling you would have about your children, something special you did for someone, or something you received. It's a feeling you can always revisit with joy. It's internally connected.
How do you move from happiness to joy, and how can you create more joy in your life regularly? Joy isn't something you can buy (a thing), or something you can do for yourself. You can't create joy for yourself directly-it is only through others. You can't operate in that joyful realm in a sustained way until you get outside yourself, because it's not about you. Churchill said, "You make a living by what you earn, but you make a life by what you give." Serving others is what great leaders do.
In his book The Spirit of Leadership, Bob Sptizer describes four levels of happiness: physical gratification, ego gratification, service to others, and service to others in pursuit of a greater cause. The last two are in the realm of joy, as they take you from selfish to selfless, from conditional to unconditional.
Lesson 2 in Purposeful Leadership: Enough
Early in my career, I set some ambitious goals for myself, including financial ones. People suggested that once I achieved these goals, I would keep moving the goal posts. I didn't believe them then, but they were right. What I achieved went far beyond my expectations, but I still found myself reframing my goals.
This isn't necessarily a bad thing, except for one aspect. It wasn't making me any happier; in fact, it started to take a toll on my life-stress, pressure, obligations. When is enough, enough? There is no absolute point. Deciding is difficult. We are naturally attracted to more. Most people think if they reach their next destination or goal, they will finally have enough. But once they arrive, they inevitably discover another level of desire.
"More of the same" will not help us attain what we ultimately seek. In fact, "more" implies we're incomplete. We think that we'll finally arrive when we achieve the next goal. Of course, the horizon moves out. After a certain level, it's a choice. "That's it – I have enough right now." When you reach that point, something remarkable happens because it's no longer just about you. It's a transformational awareness. It moves you from your own self-interest to otherinterest, from conditional to unconditional, and from happiness to joy.
So what about work? What about those goals that are so motivating? They are still there, but they take on more importance-because now they're for a greater purpose.
I continue as Co-Chairman at ARC Financial Corporation, but I contribute all the growth in value to others. It's turned my work into something with more purpose-and it's more sustaining. How you share your talents and gifts will be unique. But I can attest that when you start operating on this basis, more incredible things happen to you and for you than ever could have happened when your own needs were paramount. That's the paradox of opening yourself to joy.
Lesson 3 in Purposeful Leadership: Wealth
This is an interesting topic for someone like me who has devoted much of his career to finance, investment, and wealth. I could talk all day about maximizing shareholder value or about making investments in energy markets. Instead I want to talk about wealth in a different way and offer a new perspective.
Wealth is generally thought of as assets, and if you were truly wealthy then you would think that your financial wealth would provide "enough." But if you ask many people with wealth, you find that they generally have both a need and a plan for more.
In India, we see a lot of poverty and hardship, but we also see a lot of joy. What we all need to realize is that real wealth is in the heart, and it is experienced when you have peace and joy-that is when you finally have "enough."
As I struggled to integrate my future business life with my philanthropy, I asked Linkage founder Phil Harkins to work with me-on the condition that he come to India. He was skeptical, but he joined our family there in 2004. We talked about the challenges facing leaders. One morning, he said he had been up all night writing the outline for a book. "We need to explore some key insights here that could be important to leaders," he said. "But there's one condition-you need to help me write it."
A major part of the book involved interviewing 25 successful leaders to understand how they answered those questions. What qualities, intentions and aspirations did they have that made them so successful? To what extent did those insights from India about wealth and joy play out? That brings me to my fourth lesson.
Lesson 4 in Purposeful Leadership: Unconditional Leadership
What draws us to leadership will not sustain us. For us to grow and evolve so must our leadership. If we are aligned with our purpose and what we find meaningful, then our leadership is more successful and sustainable.
Each leader in our study found meaning and created more impact through an orientation towards serving others. Here are two representative quotes: "Personal reasons will only take you so far" and "In building a company, ultimately you are serving others." Another said "Leadership will challenge you in ways you couldn't imagine."
Warren Bennis describes the process of becoming a leader as much the same as the process of becoming an integrated human being. Leaders evolve through both failures and successes to their mature style. What is that style in its ultimate form? One important aspect if that style is moving from leading for oneself, to leading with others, to leading for others. This last stage, unconditional leadership, is the soul of leadership.
When I visited an orphanage with over 100 children in India last year with my family, the experience evoked many emotions and much anxiety. These children have so little. When we arrived, the kids came out to greet us, and our anxiety disappeared as we were swept up in the experience of being with them. We brought ice cream and cookies, but the kids wouldn't eat any until we had some of their treat for us first. They performed songs and dances, and they embraced us. Even though they had so little, they still had joy and laughter and shared it with us. My children saw abundance in a whole new way-a way that did not relate to the material world but to the heart. Despite their hardships, we felt that abundance and love, which is more meaningful and joyful.
Reflect on Why You Lead
You can make a difference. If you want to change the world, first you have to change yourself. If you change – yourself, if you change your heart, it will change the world.