"In my whole life, I have known no wise people (over a broad subject matter area) who didn't read all the time—none, zero. You'd be amazed at how much Warren reads—at how much I read. My children laugh at me. They think I'm a book with a couple of legs sticking out."
— Charlie Munger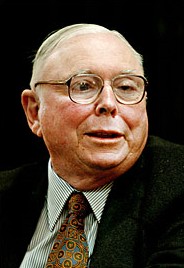 Charlie Munger is Warren Buffett's partner and Vice-Chairman at Berkshire Hathaway, the investment conglomerate. In his capacity, Munger has been a behind-the-scenes co-thinker at Berkshire and has influenced many a decision made by Warren Buffett.
At the 2004 annual meeting of Berkshire Hathaway, Charlie Munger said,
"We read a lot. I don't know anyone who's wise who doesn't read a lot. But that's not enough: You have to have a temperament to grab ideas and do sensible things. Most people don't grab the right ideas or don't know what to do with them."
— Charlie Munger
Munger was chair of Wesco Financial Corporation from 1984 through 2011. He is also the chair of the Daily Journal Corporation, based in Los Angeles, California, and a director of Costco Wholesale Corporation. Unlike Warren Buffett, Charlie Munger has claimed that he is a generalist for whom investment is only one of a broad range of interests that include architecture, philosophy, philanthropy, investing, yacht-design, etc.
Charlie Munger is a voracious reader and engages in books on history, science, biography and psychology. He once said, "In my whole life, I have known no wise people (over a broad subject matter area) who didn't read all the time—none, zero. You'd be amazed at how much Warren reads—at how much I read. My children laugh at me. They think I'm a book with a couple of legs sticking out."
At the 2014 annual meeting of The Daily Journal Company that Charlie Munger leds as Chairman, Charlie said,
"I'm very selective. I, sometimes, skim. I, sometimes, read one chapter and I sometimes read the damn thing twice. It's been my experience in life [that] if you just keep thinking and reading, you don't have to work."
Charlie Munger's Book Recommendations in Biography
Charlie Munger's Book Recommendations in Biology
Charlie Munger's Book Recommendations in Business & Investing
Charlie Munger's Book Recommendations in Management & Leadership
Charlie Munger's Book Recommendations in Philosphy & Psychology
Charlie Munger's Book Recommendations in Sociology