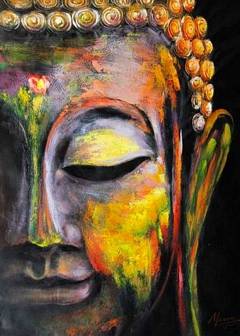 Buddha just means awake; one who is awake. When we allow thoughts, we can create incredible stories that make us laugh and make us cry. The more you try to control your mind, the more stray thoughts will come up to bother you. At this point, we may have come to the conclusion that we should drop the whole game of spiritual materialism; that is; we should give up trying to defend and improve ourselves.
Let's return to the opening lines of the poem, "The Supreme Way is not difficult if only you do not pick and choose." Actually, it is not hard to reach enlightenment if you do not grasp or reject. If you carried it home with you, your bowels would be in serious trouble. They ponder over all sorts of issues. They doubt the method and whether they can reach their objective. It requires meticulous attention. Those who do not practice Zen are not aware of their deepest vexations.
Daily problems and the pain of daily life may often feel almost poisonous. However, meditative awareness can help you to convert that poison into medicine, the medicine of cheerfulness. Taking refuge in the Dharma means taking refuge in the law, in the way things are; it is acknowledging our surrender to the truth and allowing the Dharma to unfold within us.
Zen Koan: "Open Your Own Treasure House" Parable
Daiju visited the master Baso in China. Baso asked: "What do you seek?"
"Enlightenment," replied Daiju.
"You have your own treasure house. Why do you search outside?" Baso asked.
Daiju inquired: "Where is my treasure house?"
Baso answered: "What you are asking is your treasure house."
Daiju was enlightened! Ever after he urged his friends: "Open your own treasure house and use those treasures."
Buddhist Insight on Wise Choices
In Zen Buddhism, these words embody an experience just as the world love embodies an experience of mind and body. All these phenomena arise dependent upon a number of casual factors. Doing so will help one to forget one's insignificant worries and troubles, to clarify one's thinking, and to recall the decisive values and truths upon which one should build one's life. With wise choices, no discipline is ever needed. The British meditation teacher Christina Feldman writes in The Buddhist Path to Simplicity,
How much of the knowledge, information, and strategies of our story serve us well? In our life story we experience hurt, pain, fear and rejection, at times caused by others, at others self-inflicted. Understanding what causes sorrow, pain, and devastation translates into discriminating wisdom, and we do not knowingly expose ourselves to these conditions. We are all asked to make wise choices in our lives – choices rooted in understanding rather than fear.

The Buddha used the analogy of a raft. Walking beside a great river, the bank we are standing on is dangerous and frightening and the other bank is safe. We collect branches and foliage to build a raft to transport us to the other shore. Having made the journey safely, supposing we picked up the raft and carried it on our head wherever we went. Would we be using the raft wisely? The obvious answer is "No." A reasonable person would know how useful the raft has been, but wisdom would be to leave the raft behind and walk on unencumbered.