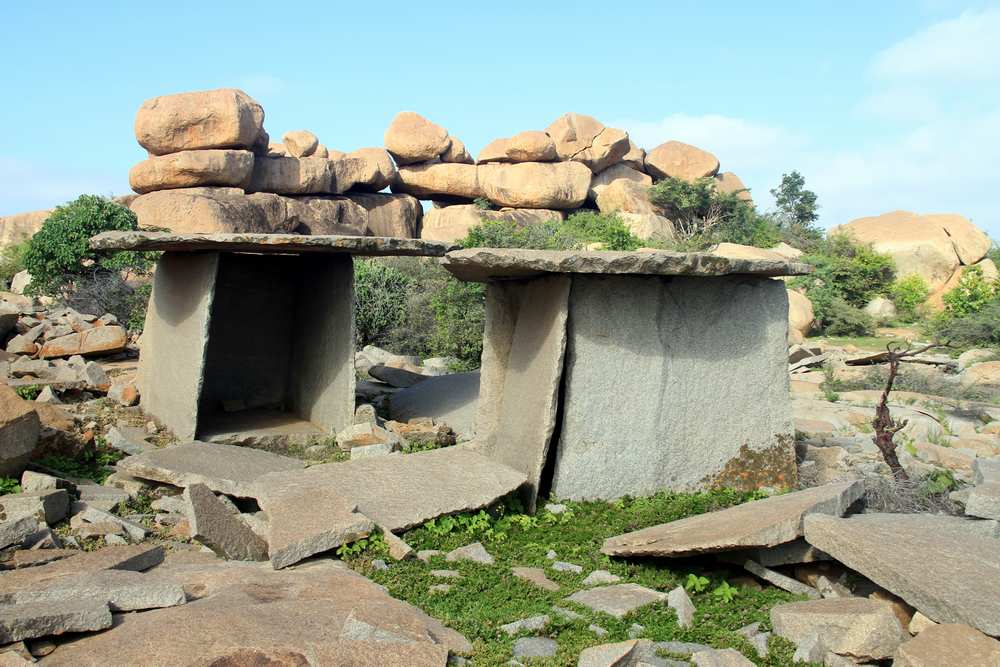 The term megalithic culture is used to denote the culture of a group of people who built their large tombs with the help of mega (huge) liths (stone) or huge stones. Literally there are thousands of such tombs all over South India including Karnataka. In general terms they were the successors to the new stone-age people. After the megalithic period we enter into the early historic period.
Chronologically, the megalithic period lasted from about 10th century B.C. to 3rd Century AD., with lot of various dates in between. There is a great variety in their tombs and culturally they are the introducers of iron into South India. Though their habitation sites are rare, their burials have been found in groups in hundreds. They had learnt the technique of quarrying and dressing stones for the purpose of the building their tombs of different varieties. These tombs contain bones and other related grave goods including iron objects. After the systematic excavations of Brahmagiri megaliths (near Chitradurga) many other sites have been excavated which give us a glimpse into the life of the megalithic people.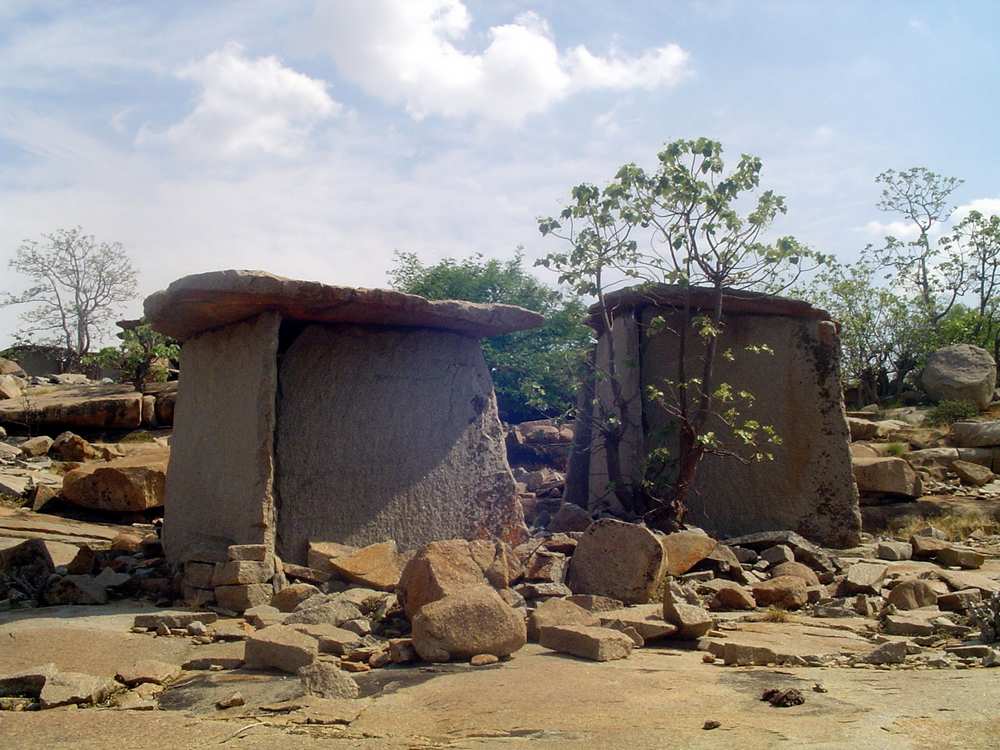 Megaliths at Hirebenakal in Raichur, Aihole in Bijapur, and Kumati have been studied in, great detail. Kumati is unique because it has stone anthropomorphic figures of huge size, not generally found elsewhere. Megaliths are locally known as Moriyaramane, Moriyara Angadi or Moriyara Gudda. They may be divided into many varieties on the basis of their external appearance as dolmenoid cists with port-holes, rock-shelter chambers, polygonal cists, dolmens with closed port~hole, stone circles etc.
The underground chambers generally contained various types of pottery with food and water along with iron implements used by the person, beads, other ornaments and skeletal remains. This shows that they had a strong belief in life after death. With the help of these objects, life of the megalithic people has been reconstructed. They belonged to an agricultural community and manufactured iron tools such as knives, axes, hooks, chisels etc. Perhaps they had a class system the details of which are not known. They practiced agriculture and lived in huts. Thus the megalithic people laid a firm foundation for the beginning of historical culture.