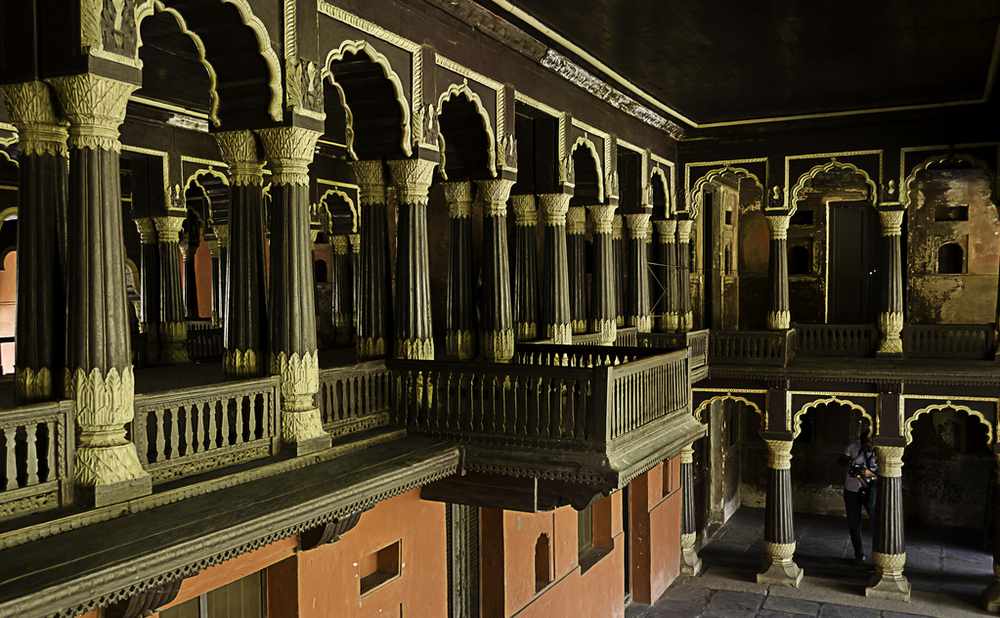 The Bangalore fort was an ancient one with contributions from Chikkadevaraja Wadeyar, Haidar Ali, and others. Tipu Sultan dismantled some parts of it after 1792 but Dewan Poornaiah rebuilt the fort in 1800 A.D. Tipu's palace is here within the fort area by the side of fort Venkataramana temple and actually it is very close to the Bangalore Medical College now.
It is said that this palace was begun by Haidar Ali in 1781 and Tipu made use of it later. Though the original facade and the frontal portions are not available now, the palace still makes a lasting impression as an elegant and magnificent structure worthy of the palace. The palace is basically built of wood, except for the peripheral outer walls built of mud and bricks.
The superstructure is of wooden frame with two stories with minute wooden carving decorations. What now remains is a frontal corridor with an upper balcony. Wide cusped arches are very conspicuous by their presence and they add a great majestic appearance. The wooden pillars with tapering design are very tall and this adds majesty to the entire structure. The walls and ceilings are of great attraction as they contain paintings of the contemporary period, consisting mostly of geometric designs and floral decorations.
Originally the upper story had four halls each comprising of two balconies and some rooms. The balconies faced parts of the office and was also used by the prince. At times it served as an audience hall also. At the end of the balconies were some rooms which were used for private purposes of the family of the Sultan. Though they look small from the present standards, with high roof they were cool and convenient for the people to live. There is a Persian inscription to the left of the verandah which calls it abode of happiness and envy of heaven. Its construction was started in 1781 and was completed in 1791 A.D.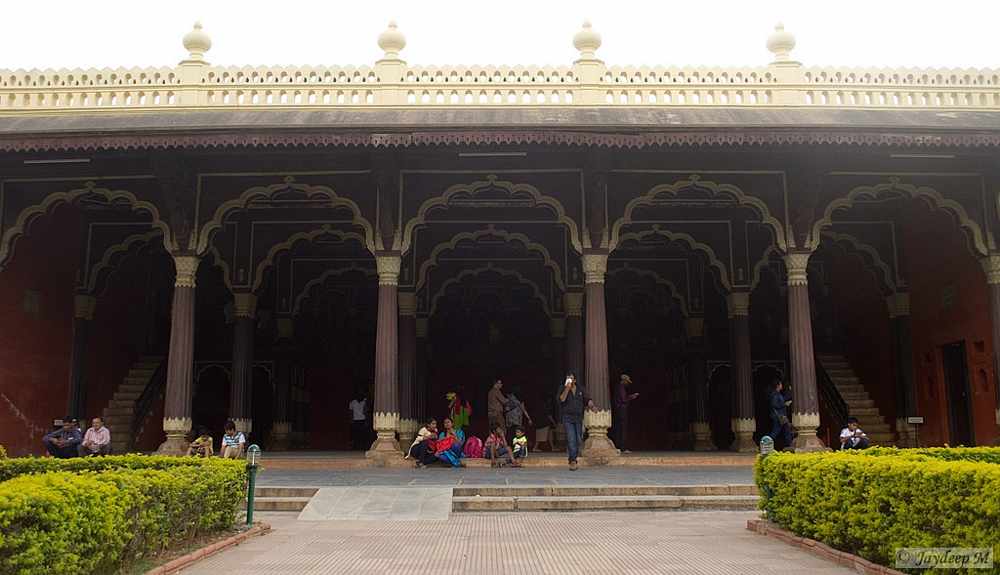 After the death of Tipu Sultan it was used by Krishnaraja Wadeyar III to give audience to the citizens of Bangalore in 1808. Subsequently it was temporarily used by the British army. The Karnataka State Secretariat also worked from here. Finally it was taken over by the Archaeological Survey of India which has made it a protected monument. Thus it is a rare and elegant wooden palace at Bangalore.