The early church referred to the holy apostle James as "James the Elder" or "James the Great" to differentiate him from "James the Younger" or "James the Less," the son of Alphaeus, who was purportedly a smaller and definitely a younger man.
We can imagine James the Elder as a robust, impressive figure, with piercing eyes, a full beard, and a resonant voice that must have commanded respect.
The son of Zebedee, a affluent fisherman, James was the older brother of John, and a partner of Peter's in business. Jesus called James and John Boanerges, meaning "Sons of Thunder" in Greek, for their enthusiastic zeal (Mark 3:17.) Once when the innkeepers in a Samaritan village declined accommodations to Jews, the irritated brothers asked Jesus to call down fire from the heavens to avenge the affront. But Jesus refused, saying, " … the Son of man is not come to destroy men's lives, but to save them." (Luke 9:56)
Holy Scripture describes James, John, and Peter as Jesus' favorite apostles; those in his inner circle. Some consider the brothers were the Lord's close relatives and that Peter was their dear friend. These three were present when Jesus raised from the dead the young daughter of Jairus, the synagogue president. They were also with Jesus at the unique revelation on the Mount of Transfiguration; and during the long night in the Garden of Gethsemane.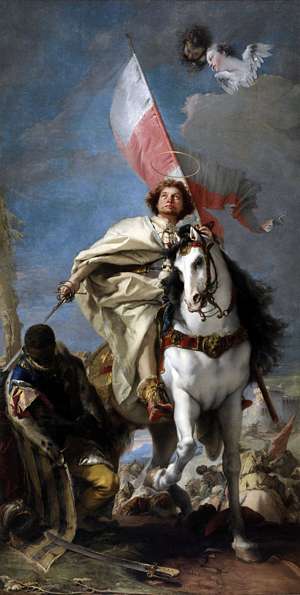 After Pentecost, James' name disappeared from the gospels. Some very olden traditions dating back to the earliest centuries try to explain his absence. It is said that in the years following Jesus' Resurrection James travelled to Sardinia and Spain to preach the word of the Lord before returning to Jerusalem.
During the Middle Ages the holy apostle James the Elder was one of the most well-liked figures in Christian Spain, and his patronage was invoked in time of war. His symbol is the sword or the bishop's hat, for he is claimed as the first bishop of Spain.