One of the traditions at the Berkshire Hathaway annual meetings is an hour-long light-hearted movie show. In fact, the "movie" is a collection of video clips some of which showcase commerials and skits from Berkshire Hathaway's vast array of businesses, some featuring Buffett-comedy, surprise celebrity features, and so on, often to wild laughter among the crowd.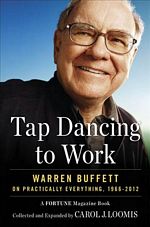 In 2013, the Berkshire Hathaway video started with a cartoon version of Dancing with the Stars with Warren Buffett and partner Charlie Munger as judges. After the judges dismissed every contestant, including Dairy Queen and the Geico Gecko, the judges themselves won the contest by dancing to the Gangnam Style. The 2013 movie also had clips of Warren Buffett and Fortune Magazine's Carol Loomis appearing on the Daily Show with Jon Stewart to promote "Tap Dancing to Work: Warren Buffett on Practically Everything". A humorous debate over "ketchup" vs. "catsup" from the sitcom King of Queens highlighted Berkshire Hathaway's buyout of H.J. Heinz Company (in partnership with Brazil's 3G Capital.)
In recent years, the "movie" has also featured Warren Buffett's opening statement to a Committee of the U.S. House of Representatives on the Salomon Saga. "Lose money for the firm, and I will be understanding; lose a shred of reputation for the firm, and I will be ruthless," warns Mr. Buffett at the end of that opening statement.
The security staff at the Berkshire Hathaway meetings forbid attendees from recording audio or video from the opening movie due to confidentiality and copyright restrictions. At the beginning of the movie, a voice-over or video recording from Warren Buffett assures appearances from "a number of people you recognize" and reminds that the celebrities work for free, at the request of the notoriously stingy Buffett. "Surprise, surprise."
Over the years, the most popular clips in the movie feature a hilarious Warren Buffett attempting at diverse jobs in Berkshire's businesses. Here's one from Berkshire's furniture business, Nebraska Furniture Mart.