Jetsunma Tenzin Palmo (born 1943) was born Diane Perry Woolmers Park, Hertfordshire, during the Blitz to an English house cleaner and a fishmonger. Although spiritualist meetings were held in her childhood home, at age eighteen, she decided she was a Buddhist in 1961 when she read a library book on the subject. She then traveled by sea to India in search of a teacher. On her twenty-first birthday, she met her religious teacher, the eighth Khamtrul Rinpoche. Three weeks later, she became the second Western woman (after Freda Bedi, another English woman who in 1966 became the first Western woman to take ordination in Tibetan Buddhism) to be ordained as a Tibetan Buddhist nun.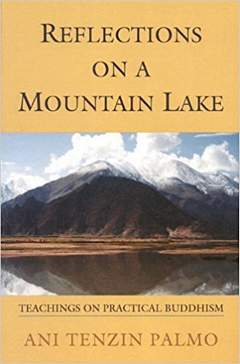 At thirty-three, with her lama's sanction, Tenzin Palmo took up residence in a six-by-six-foot cave, 13,200 feet up in the Himalayan valley of Lahaul, and lived there for twelve years. Since then, she has given her uniquely practical teachings around the world in an effort to raise awareness and funds for the Dongyu Gatsal Ling Nunnery, in Himachal Pradesh, India, which she founded in 2000.
Tenzin Palmo is recognized as one of the very few Western yoginis trained in the East, having spent twelve years living in a remote cave in the Himalayas, three of those years in strict meditation retreat.
Jetsunma Tenzin Palmo is the author of such well-known books as Reflections On A Mountain Lake: Teachings On Practical Buddhism and Into the Heart of Life. Four quotations from her interview called "No Excuses: There are no obstacles, just opportunities." with Lucy Powell for the Tricycle Winter 2009 magazine:
"It is really very impressive how many excuses we can invent for why we aren't sitting. This idea we have that when things are perfect, then we'll start practicing—things will never be perfect. This is samsara!"
"Our fundamental problems are our ignorance and ego-grasping. We grasp at our identity as being our personality, memories, opinions, judgments, hopes, fears, chattering away—all revolving around this me me me me."
"Our mind is a treasure. But it's very absorbent, so we must also be very discriminating in what we hear, read, and see. And in the spiritual life, our fence is our ethics. If we know we are living ethically to the best of our ability, the mind will become peaceful."
"The difference between love and attachment … Attachment is the very opposite of love. Love says, "I want you to be happy." Attachment says, "I want you to make me happy.""