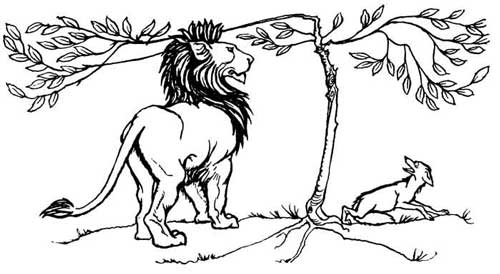 The "Fox and the Lion" from Aesop's Fables:
When first the Fox saw the Lion he was terribly frightened, and ran away and hid himself in the wood. Next time however he came near the King of Beasts he stopped at a safe distance and watched him pass by. The third time they came near one another the Fox went straight up to the Lion and passed the time of day with him, asking him how his family were, and when he should have the pleasure of seeing him again; then turning his tail, he parted from the Lion without much ceremony.
From Chapter XVIII "Concerning The Way In Which Princes Should Keep Faith" in Niccolo Machiavelli's The Prince:
A prince, therefore, being compelled knowingly to adopt the beast, ought to choose the fox and the lion; because the lion cannot defend himself against snares and the fox cannot defend himself against wolves. Therefore, it is necessary to be a fox to discover the snares and a lion to terrify the wolves. Those who rely simply on the lion do not understand what they are about. Therefore a wise lord cannot, nor ought he to, keep faith when such observance may be turned against him, and when the reasons that caused him to pledge it exist no longer. If men were entirely good this precept would not hold, but because they are bad, and will not keep faith with you, you too are not bound to observe it with them. Nor will there ever be wanting to a prince legitimate reasons to excuse this nonobservance.
From Marcus Tullius Cicero's De Officiis (On Duties or On Obligations):
But let us remember that we must have regard for justice even towards the humblest. Now the humblest station and the poorest fortune are those of slaves; and they give us no bad rule who bid us treat our slaves as we should our employees: they must be required to work; they must be given their dues. While wrong may be done, then, in either of two ways, that is, by force or by fraud, both are bestial: fraud seems to belong to the cunning fox, force to the lion; both are wholly unworthy of man, but fraud is the more contemptible. But of all forms of injustice, none is more flagrant than that of the hypocrite who, at the very moment when he is most false, makes it his business to appear virtuous. This must conclude our discussion of justice.