During the early 1960s, Lockheed Corporation, now part of Lockheed Martin, had retreated from the civil airliners market because of recurring problems and early-life crashes of the Lockheed L-188 Electra, the first large turboprop airliner produced in the United States.
In response to interest by American Airlines and other airlines that wanted an aircraft smaller than the Boeing 747, but with the ability to carry large passenger loads on medium haul routes, Lockheed decided to develop the Lockheed L-1011 TriStar, commonly known as the L-1011 or TriStar. It was a medium-to-long range, wide-body trijet aircraft. Incidentally, The L-1011 was the third wide-body airliner to enter commercial operations, after the Boeing 747 and the competing trijet McDonnell Douglas DC-10.
Despite an innovative set of features that included automatic landing capabilities, an automated descent control system, and purported cabin space, the TriStar was a commercial failure. The TriStar's sales were hampered by two years of delays due to developmental and financial problems at engine supplier Rolls-Royce. Lockheed manufactured a total of 250 Tri-Star's until 1984 and withdrew from the commercial aircraft business due to its below-target sales. This ultimately led to the current Airbus-Boeing duopoly with after Boeing acquired McDonnell Douglas in 1997.
Lockheed L-1011 TriStar Key Statistics
Manufacturer: Lockheed, now part of Lockheed Martin
Power plant: 3 engines Rolls-Royce RB-211-22B turbofans
Passenger Accommodations: upto 345
Flight altitude: 42,000 feet
Flight range: 3,300 miles
First flight: 16-Nov-1970
Primary customers: British Airways, Trans World Airlines (TWA,) Delta Air Lines, and Eastern Air Lines
Number of frames built: 250 between 1968 and 1984
Economy Class Seating Cross-Sections
9 Abreast 3-4-2 seating with Wider Aisles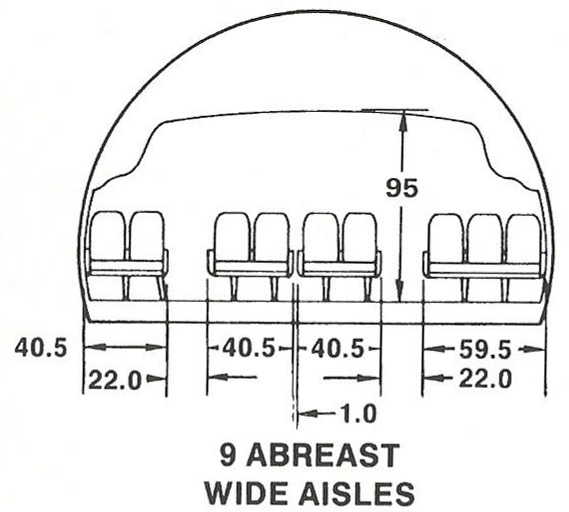 9 Abreast 3-4-2 seating with Wider Seats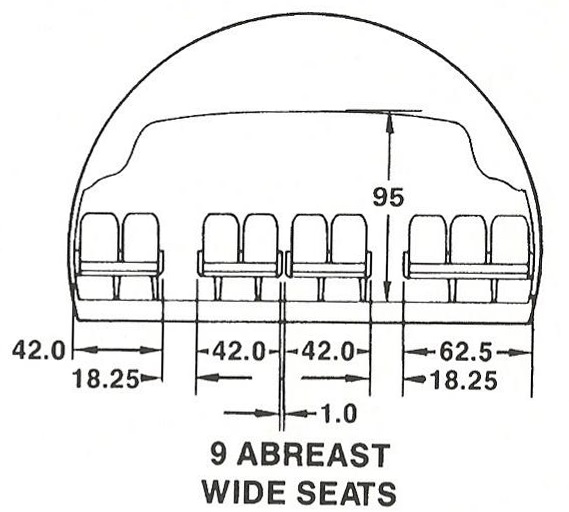 9 Abreast 2-5-2 seating with Narrower Aisles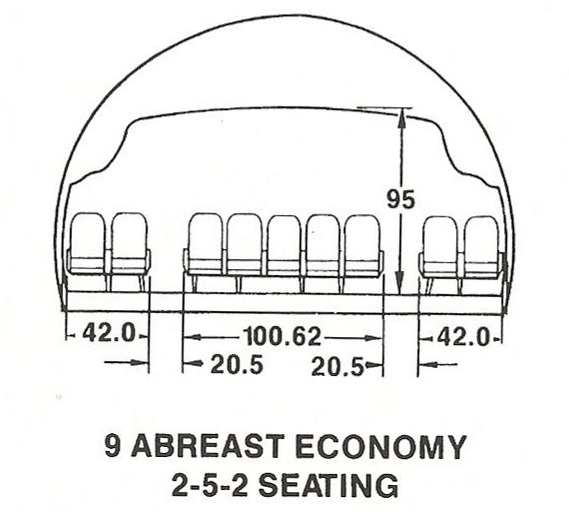 9 Abreast 3-4-3 seating with Narrow Aisles