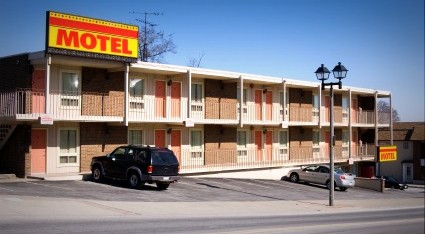 The commonly acknowledged distinction between the definition of a hotel and that of a motel is based upon the means of access to the rooms.
Most hotels have interior hallways to the rooms. A guest is expected to leave his car in the hotel's parking lot, enter through the hotel's lobby, perhaps take an elevator, and walk down a hallway to access his room.
In contrast, motels consist of exterior corridors. Motel rooms open directly into a parking lot or a balcony overlooking the parking lot. A guest could park his car directly in front of his room and enter his room. Motels do not have hallways or internal corridors within the property.
The term 'motel' originated as a portmanteau for 'motorist hotel.' In the 1920s, with the development of the freeway system in the United States, many motorists needed to park their vehicles and stay for the night during their long-distance road journeys. Located along (or close to) these freeways, the motels provided accommodations to motorists who needed rest before proceeding. In this context, a hotel is a residential property inside a city of destination where travelers stay for the duration of their travel.
Another common understanding is that motels are low-priced hotels.