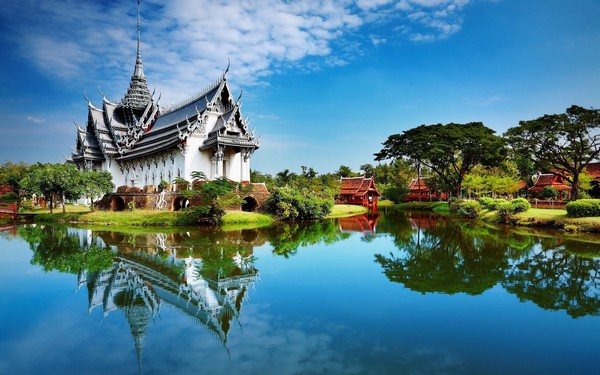 Millions of visitors flock to the 'Land of Smiles' every year and it is easy to see why. Whether you want to party, laze on a beach, or stuff yourself with local delicacies, Thailand has something for everyone. Beyond its more obvious attractions, however, a little deeper exploration yields up Thailand's subtler charms.
Thailand: At a Glance
Experience the Best Attractions of Thailand
Boxing Days: Grueling training sessions, a rudimentary diet and sparse facilities—these are the staples of training for Muay Thai or Thai boxing. There are special camps run across the country that offer short-term courses for visitors. Most have English-speaking instructors, and training periods can range from one day to a few weeks. Check out the Lanna Muay Thai Boxing Camp in Chiang Mai and the Muay Thai Institute in Bangkok.
Biker Fun: Thailand is great for two-wheeled exploration, as long as you can deal with crazy traffic. Check out the Big Bike Company in Patong. They rent out Honda CB 400 cc motorbikes that are fun and fast. Your inner petrol head will certainly be happy, especially when you hit the long, winding roads.
Cook up a Storm: If you love Thai food and like pottering in the kitchen, why not combine the two and take in a Thai cooking class. The Baipai Thai Cooking School in Bangkok is a well-known institute in a beautiful location, and offers short courses run by English-speaking instructors. If you are in Phuket, the Phuket Thai Cookery School offers you a haven from the noise and bustle of the city. Located on Siray Beach, you can couple your cooking classes with panoramic ocean views and then walk off a meal in the evening or even take a siesta on the wooden sundeck.
Leave the Road Behind: Go off the beaten track and indulge in some soft adventure sports in Nakhon Nayok. From rappelling to cutting through forests and streams on ATVs and white-water rafting, there are lots here for the intrepid adventure-lover.
Get Wet: Thailand turns into a free-for-all water park once a year. The Songkran Festival is an unrestrained water fight, and visitors are fair game, both to be soaked and to do the soaking Images of the Buddha are 'bathed' and young Thais seek the blessing of their elders by pouring scented water over their hands. Held at the peak of the hot season, Songkran is quite literally a chance for the entire country, and all its visitors, to cool off.
Join the (Yacht) Club: If your sailor self has been feeling neglected for a while, and you are feeling especially indulgent, Thailand has many great yachting options. A sailing holiday in Thailand is an especially beautiful experience with the turquoise waters of the Andaman Sea and swimming and snorkeling at your leisure. Most trips are around Phuket and Koh Samui, and you will get to see other islands as well.
Kick Back: Take a break from all that activity at Koh Phangan's Sanctuary Island Resort. The Sanctuary is a laid back, alternative health resort on a isolated beach fringed by tropical forest and tropical seas. Your mind and body will both leave refreshed and ready to take on the world again.
Festival of Lights: Come November, Thailand transforms into a veritable fairyland of lights, Loi Krathong is Thailand's festival of lights held on the full moon night of the 12th lunar month of the year. If you are lucky enough to be staying on the coast, you will be able to see lights stretching far out across the water. The word 'loy' means 'to float' while 'krathong' is the lotus-shaped receptacle. Originally, the krathong was made of banana leaves or a spider lily plant; it contains food, betel nuts, flowers, candles, and coins.
Soup It Up: Thailand is known for its spicy, flavorful food and tom yum soup is one of the country's best-known dishes. This clear, hot-and-sour soup combines herbs, spices, and seafood to great effect.
Get Inked: Experience tattooing like no place else at Wat Bang Phra. The monks here create delicate sak yant (also known as yantra tattoos) following age-old methods, and bless them afterwards.