In 1945, President Ronald Reagan and his first wife, the actress Jane Wyman adopted a son Michael E. Reagan. His adoption was not a happy one and he is now estranged from his family.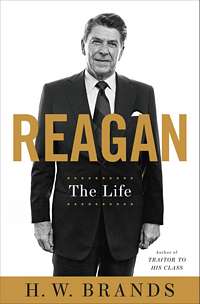 'Reagan: The Life' by H.W. Brands recalls Michael Raegan's story, who as a child was "neglected as those of any famous parent. Invited to speak at his adopted son Michael's boarding school, Reagan failed to recognise his boy under a mortar board. 'My name is Ronald Reagan. What's yours?' he said. 'Remember me?' came the sad reply: 'I'm your son Mike.'"
In 1964 Ronald Reagan was the commencement speaker at an exclusive preparatory school outside Scottsdale, Arizona. He was standing with several of the graduating seniors, who were invited to pose for pictures with him. He chatted to each of the graduates in turn, and to one of the boys said: "My name is Ronald Reagan. What's yours?" The boy said, "I'm your son, Mike." "Oh," said Reagan. "I didn't recognize you."
Reagan and his first wife Wyman divorced in 1952. Michael Reagan was born in Los Angeles to Irene Flaugher, an unmarried woman from Kentucky who became pregnant through a relationship with U.S. Army corporal John Bourgholtzer. Michael Reagan is a conservative radio host and strategist for the American Republican party.