Lady Gaga is notorious for her distinct aesthetic, which can be labelled as a social fantasy that espouses much of Andy Warhol's Pop Art visualization yet twists it to signify present-day anxieties. Her dynamic quest to produce the memorable and rejoice the mercurial emphasizes the degree to which pop phenomenon has been affected by a period of extraordinary connectivity among consumers and cultural creators.
Lady Gaga's wide-eyed hope gradually eroded as she became the most famous artist of the last decade.
Starbucks is partnering with Lady Gaga's Born This Way Foundation to spread a simple message—be kind.

Starting tomorrow (June 13), Starbucks will donate 25 cents from each one of its colorful Cups of Kindness beverages sold at participating Starbucks® stores in the United States and Canada through June 19 to Born This Way Foundation. Funds raised will go toward programs that support youth wellness and empowerment by fostering kindness, improving mental health resources, and creating more positive environments.

"We're healthier and happier when we live our lives with compassion and our communities are stronger when we treat one another with generosity and respect," said Lady Gaga. "Born This Way Foundation and I are so excited to partner with Starbucks to help inspire positivity and love through the Cups of Kindness collection."

The new Starbucks Cups of Kindness collection features four vivid iced beverages hand-picked by Lady Gaga, including the new Matcha Lemonade and Violet Drink. The refreshing, nondairy drinks come in a rainbow of colors and are all under 150 calories for a grande size.

"I adore the entire collection and I instantly fell in love with the Matcha Lemonade," she said.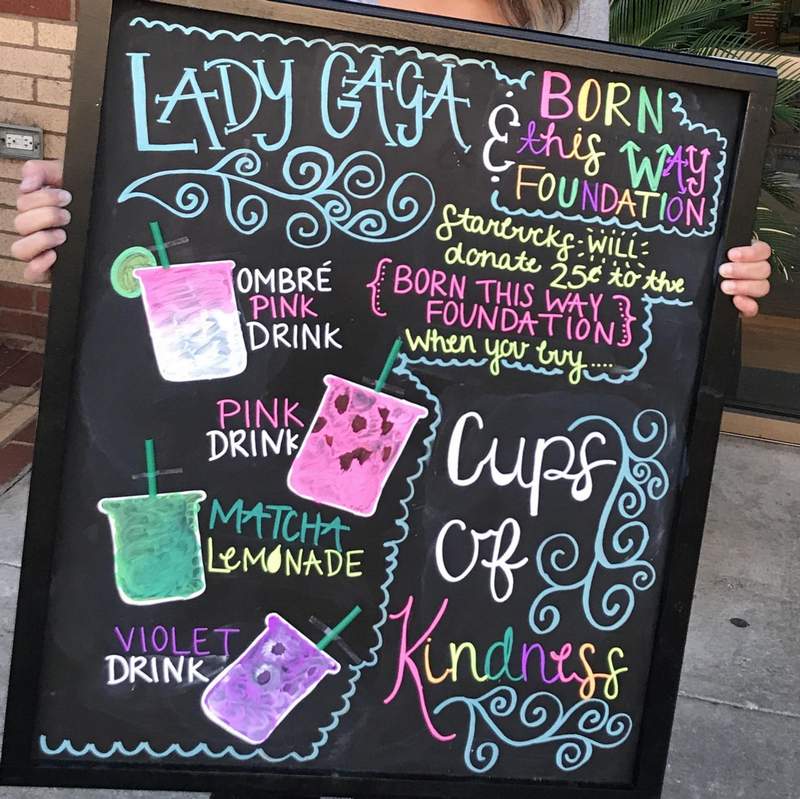 Born Stefani Germanotta, Lady Gaga is an avant-garde artist who makes the most of her art school background and combines aspects of performance, art, and fashion into a musical style that represents a distinctive multimedia melange philosophy.
Lady Gaga's pursuit of a sustaining cultural presence responds to hypermodern pressures through her elaborate performances and dress experimentation, which are deployed to create visual impressions that are essentially tailor-made for the age of viral marketing and produce expectations of ever impressive spectacles. She supplements this approach by attempting to obviously link herself to categories of individual uniqueness.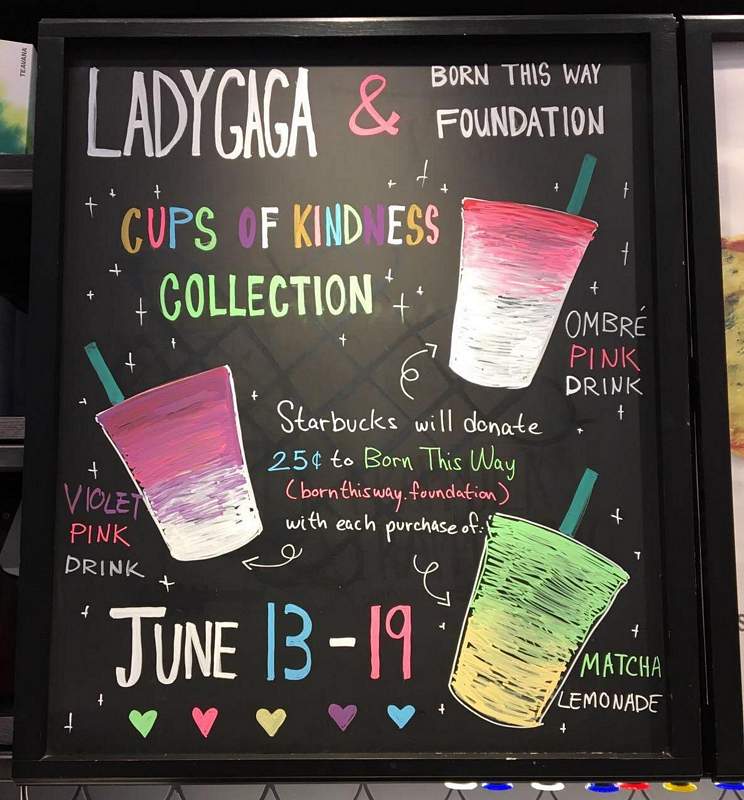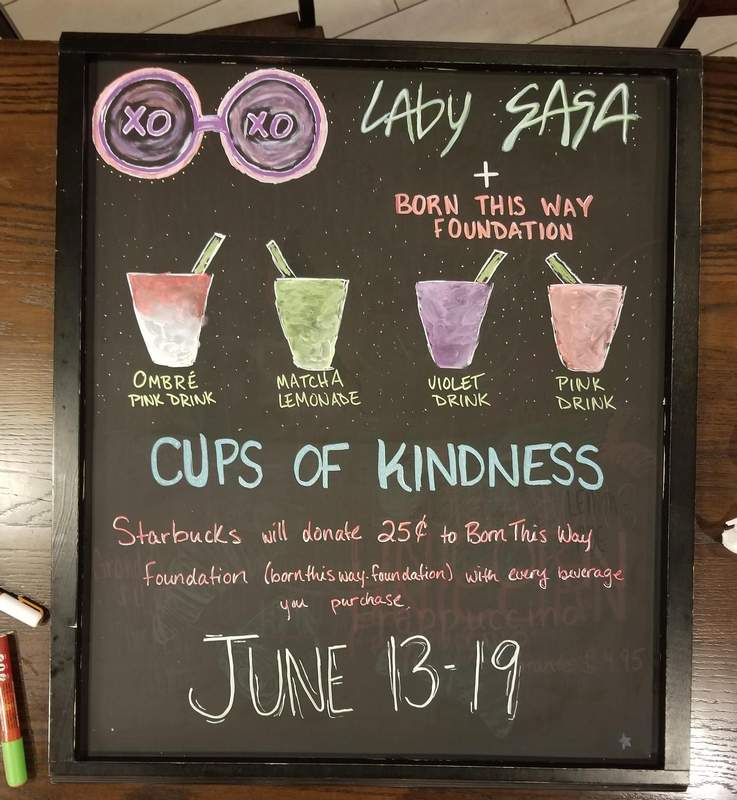 By praising the "monster," the "freak," or the "misfit" in multiple expressions—not "fitting in" at school or being gay—Lady Gaga is able to build a sense of sociological connection among fans while the catch-all energy and dynamism of her music works to sustain mass appeal.
"Over the years we've admired the amazing work that Lady Gaga has led through Born This Way Foundation," said Holly Hinton, director of Music and Artist Programming. "We are proud to introduce the Cups of Kindness collection to raise awareness and fund the Foundation's efforts to spread kindness, support youth and make the world a better place."

One program that will benefit from the Cups of Kindness initiative is Born This Way Foundation's Channel Kindness, a platform featuring stories of kindness as documented by young people from around the United States. These youth reporters, ages 16 to 24, have been recruited to identify and document the acts of generosity, compassion, and acceptance that shape communities. 

Starbucks has committed to a minimum $250,000 contribution to the Born This Way Foundation.
What the world of popular culture has in Lady Gaga is a young, sexy, tradition-busting performer. Her musical influences part from Bowie and Queen, detail the influence of a line of obvious women performers: Madonna, Grace Jones, Spears, Debbie Harry, Gwen Stefani, Christina Aguilera and Kylie Minogue. If one asks the fans of Lady Gaga why she is more charming than other stars, they would be likely to emphasize the individual investment and connection of Lady Gaga herself and thus the mutuality of the relation. What the business world has in Lady Gaga is a new icon of marketing.
Lady Gaga will not permit qualified photographers near her when she performs, but she promotes her fans to take pictures and videos and publish them without restrictions on the internet. Even with her hit single, 'Born This Way', she appears to agonize less about copyright and more about fan devotion. When a ten-year-old Canadian teenager published her own adaptation of the song online, Lady Gaga watched it, admired it and encouraged the girl to perform with her before a live audience at some point. In ways like these, the star advances her followers over herself.
There is something heroic about the way my fans operate their cameras. So precisely, so intricately and so proudly. Like Kings writing the history of their people, is their prolific nature that both creates and procures what will later be perceived as the kingdom. So the real truth about Lady Gaga fans, my little monsters, lies in this sentiment: They are the Kings. They are the Queens. They write the history of the kingdom and I am something of a devoted Jester.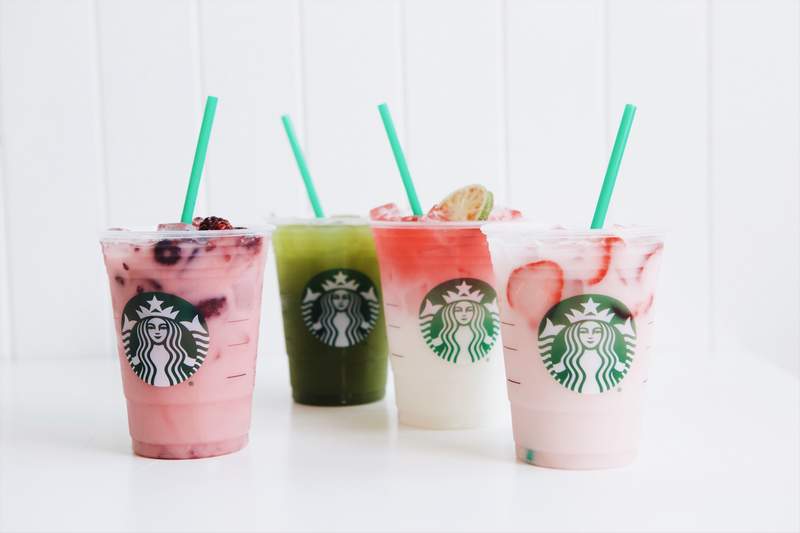 Lady Gaga's new connection between performance and theory, pop culture and viewpoint is bolstering because it provides a source of sincerity, passion, and action, and a heart for mirroring on a mass produced sophistication that however has Lady Gaga's genius to replicate bits of itself to itself in a cycle of disapproval that produces something new to say and show.
Credits: Corporate images from Starbucks'media website and Starbucks chalkboard images from Starbucks associates'Reddit posts