Propelled by the increased outsourcing of health-care data processing and by a growing number of European clients and an mindful operational strategy to reinvestment substantially higher proportion of operating profits in the business drove Cognizant's top line growth and lent a hand in maintaining operating margins over the years.
Despite being based in Teaneck, N.J., Cognizant had an organizational structure that was India-centric from the very beginning. Cognizant realized early that its business and customer service strategy required that Cognizant satisfied the needs of its customers locally and still operate an increasingly global workforce, most of which is based in India. Cognizant designed its organization around how the tactical or operational situations its customers are facing. Cognizant's phenomenal growth was built around the USP that it is as American as the large consulting companies (Accenture, Cap Gemini, IBM) and as Indian in terms of workforce as its primary competitors Infosys, TCS, and Wipro.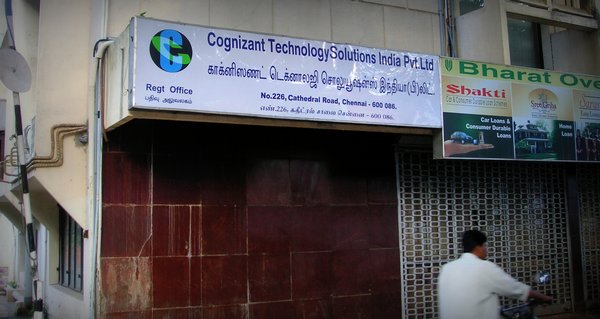 Cognizant was the fourth Indian IT services firm, to reach $1BB annual revenue milestone, but it was the fastest: TCS took 35 years to hit the $1BB annual revenue milestone, Infosys 23 years and Wipro 25 years, while Cognizant took just 12 years. To be fair, Cognizant never had a start-from-scratch beginning. The company was originally established in 1994 as Dun & Bradstreet Satyam Software (a 76:24 joint venture with the erstwhile Satyam Group) as an in-house technology unit of Dun & Bradstreet with headquarters in Chennai, India. In due course, as Cognizant started serving external clients, the joint venture was rechristened Cognizant Technology Solutions and spun off as a separate company in 1996. In 1997, Cognizant moved its headquarters from Chennai in South India to Teaneck, NJ. After a series of corporate splits and restructures of its parent companies, Cognizant had an IPO in 1998 and has never looked back. Cognizant experienced rapid growth during the 2000s and was a regular on lists of fastest growing companies compiled by Fortune and BusinessWeek magazines.
Cognizant's operating margins have remained healthy even in the face of heightened competition for customers and talent, wage inflation, attrition costs, and fluctuations in the strength of the Indian Rupee. Historically, Cognizant's margins of about 20% have been lower than the 28% margins earned by market leader Infosys. Francisco D'Souza, Cognizant's CEO stated in the company's release of year 2013 third quarter earnings, "We delivered yet another quarter of industry-leading growth that was broad-based across our portfolio of industries, services, and geographies. The sheer velocity of change in the industries we serve is driving the C-suite to challenge the status quo and rethink their business models to be relevant for the future. Our investments across multiple horizons of growth position us well to deliver differentiated value as we partner with clients in this journey."
Wall Street was worried of Cognizant's performance earlier in 2013. First, Infosys gave terrible guidance during its first quarter results compelling Wall Street to believe that Cognizant might lower its guidance as well. The earnings miss from IBM also hurt the information technology sector. Taking into consideration recent events, there are concerns about upcoming legislation may impact the status of foreign workers and profitability. Many of these factors are tangential concerns and do not impact the company directly.
Cognizant was a late participant in the rapidly-growing European region for demands for computer services. In response, Cognizant made aggressive efforts to increase its presences there—geographically and expertise-wise. In an interview with the Business Standard, R Chandrasekaran, Cognizant's Group Technology & Operations CEO expressed confidence that his company is well positioned to meet the demand for IT services and consulting: "In Europe, clients are looking to move more work to a global delivery model. A structural shift from discretionary projects to larger annuity-based outsourcing deals across Europe is being catalyzed by the economic climate. Our continued investments in Europe, local leadership and broad range of capabilities make us optimistic in our long-term growth prospects across Europe."
Cognizant, with a large number of clients in the United States, could confront problems in attracting and retaining highly skilled foreign workers—largely computer programmers from India—in the United States due to restrictions in the availability of H1B visas. The Obama Administration has not yet resolved the issue of immigration reform. In a recent interview with India's Economic Times, Gordon Coburn, former CFO and Operating Officer and current President responsible for managing Cognizant's P&L, stated, "We continue to work with our legislators to develop the immigration reform that would be good for the US economy and the clients. We are encouraged that our legislators understand that some of the components in the original bill may not have been good for the economy and the US clients. So we are seeing a better understanding around what part of the bill will be good and what part will be not. It is an on-going discussion and it will continue." Cognizant will face challenges in deploying strategic and operational measures to shield its cost base from the impact of wage inflation and employee attrition.
There can be no doubting that Cognizant will continue to grow well into the future. Cognizant Technology Solutions will continue to exploit every opportunity to expand its top-line and bottom line further and garner significant market share.