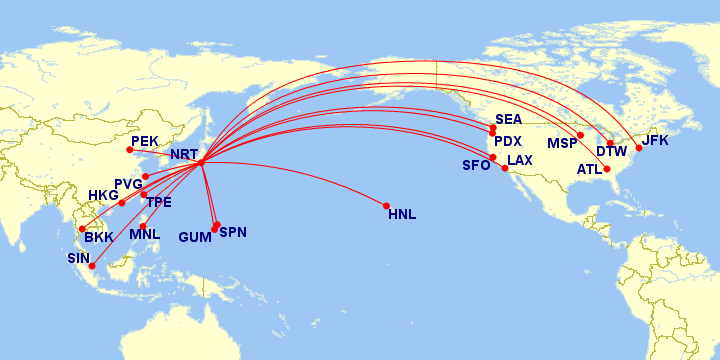 Delta Airlines operates a scissors hub at Tokyo Narita International Airport (NRT.) Delta inherited a majority of its Tokyo Narita operations in 2008 following its merger with Northwest Airlines. Before the merger, Delta Airlines had been operating flights from the United States to Tokyo since 1987. Currently, Delta also operates flights from the United States and Asia-Pacific to Tokyo's Haneda International Airport (HND,) Nagoya's Chubu Centrair International Airport (NGO,) and Osaka's Kansai International Airport (KIX.)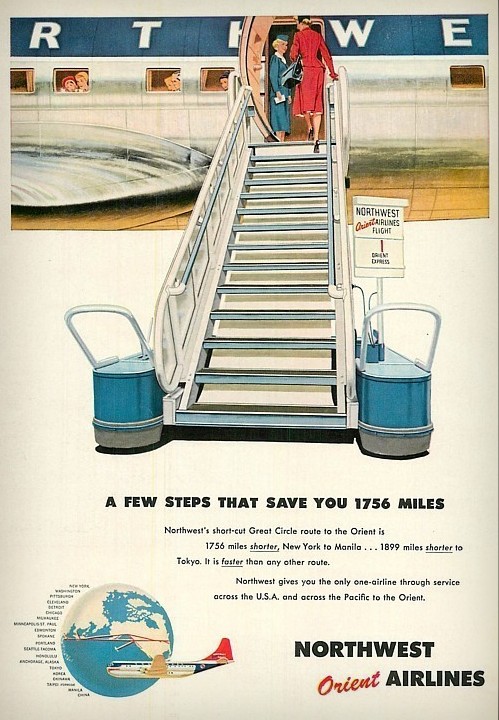 History of Northwest Airlines and Flights to Japan
Northwest Orient Airlines (as Northwest Airlines marketed itself for these routes) had first established its service to Japan and onward in 1947 as part of its 'Great Circle' route between the United States and Asia. Northwest Orient initially formed its hub in Tokyo's Haneda International Airport (HND, then Haneda Air Force Base,) and operated flights to China, South Korea, and the Philippines.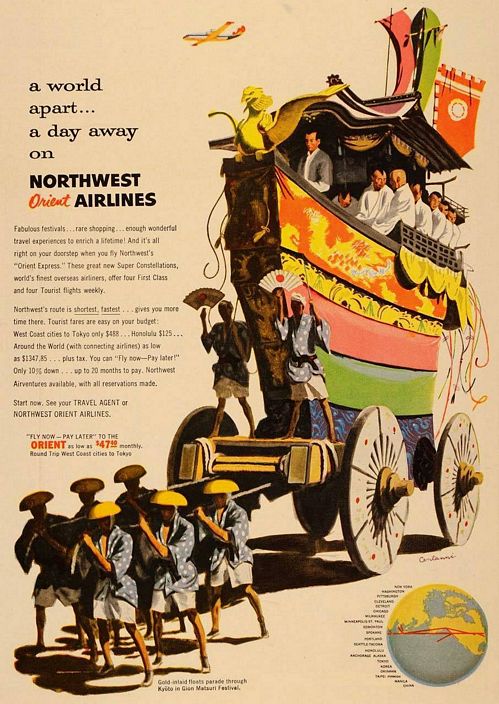 On 15-Jul-1947, Northwest made flew a Douglas DC-4 aircraft named "The Manila" from Wold-Chamberlain Field (formerly part of the full name of the Minneapolis-Saint Paul International Airport MSP) in Minneapolis, via Blatchford Field in Edmonton (Calgary,) via Elmendorf AFB in Anchorage (Alaska,) via Eareckson Air Station (then Shemya AAF) in the Aleutian Islands (Alaska,) landed in Haneda Air Force Base, and continued to Lunghwa Airport in Shanghai and onward to Nichols Field at Manila.
On 20-Oct-1947, Northwest flew between Tokyo and Seoul's Gimpo Airport.
On 16-Nov-1947, Northwest made a transit stop in Okinawa's Naha Airport on its way to Manila's Nichols Field.
On 3-Jun-1950, Northwest added Taipei's Songshan Airport on the Tokyo-Okinawa-Manila route.
In 1951, Northwest helped found Japan Air Lines (JAL) by supplying aircrafts on lease and crewmembers to the new airline.
In 1952, a bilateral aviation accord between the United States and Japan made Northwest Airlines and Pan American World Airways as two US-based airlines allowed to fly from the United States to Tokyo. As part of the bilateral agreement, Northwest also procured fifth-freedom rights to carry passengers between Tokyo and Seoul (Korea,) Busan (Korea,) Taipei (Taiwan,) Manila (Philippines,) Hong Kong, Bangkok (Thailand,) Singapore, and the US territories of Guam and Saipan.
In 1978 when the New Tokyo International Airport (now called the Narita International Airport NRT) opened as the principal international airport in Tokyo, Northwest shifted its hub from Tokyo's Haneda International Airport to Narita.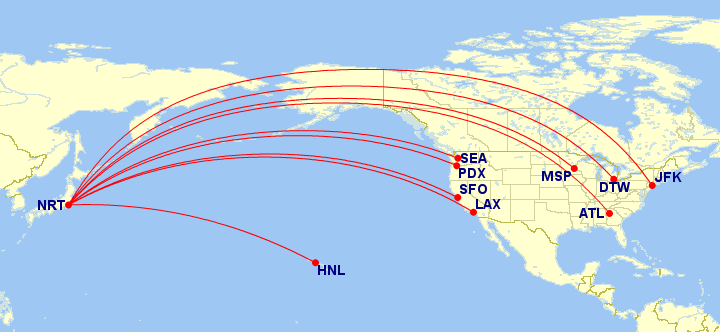 Delta Flights from Various United States Cities to Tokyo Narita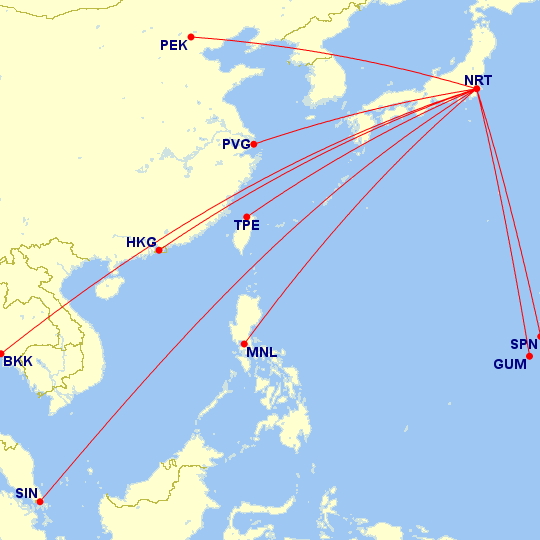 Delta Flights from Tokyo Narita to Various Destinations in Asia-Pacific
References