The car industry in China is the largest in the world, as measured by total annual automobile unit production volumes. Since year 2009, the number of automobiles manufactured in China has exceeded that of the European Union and that of the United States and Japan combined.
45% percent of cars produced were BYD, Lifan, Chang'an (Chana), Geely, Chery, Hafei, Jianghuai (JAC), Great Wall and Roewe. The rest were produced by joint ventures of international automotive giants Volkswagen, General Motors, Hyundai, Nissan, Honda, Toyota, Mitsubishi etc. Further, that China car market is expected to grow tenfold through 2030.
Several Chinese car makers have been accused of copying designs of other companies. In addition, to increase sales and build up brand equities, Chinese automakers have rapidly expanded the number of brands they offer and some Chinese automakers have even taken inspiration from internationally-well-known brands. Here are side-by-side comparisons of brand identities—international brands in the left column and the Chinese derivatives in the right column.
Logos of the Acura and Changan Brands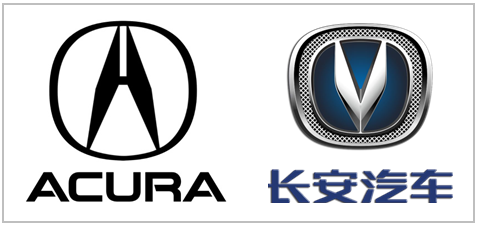 Chang'an Automobile Group, based in Chongqing, has quickly grown to become one of the top four Chinese automakers along with Dongfeng, FAW Group, and Shanghai Automotive. It also has joint ventures with Ford, Suzuki, and PSA Peugeot Citroen.
Logos of the Cardillac and Emgrand Brands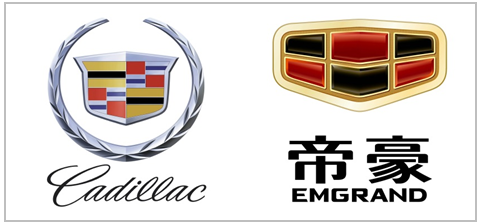 Emgrand (literally the "Imperial brand") is an automobile marque owned by the Chinese automaker Geely. Englon and Gleagle are the other marques owned by Geely, as part of Geely's strategy of expanding its number of brands to encourage sales and evade a reputation for unreliability and poor quality.
Logos of the Mazda and Haima Brands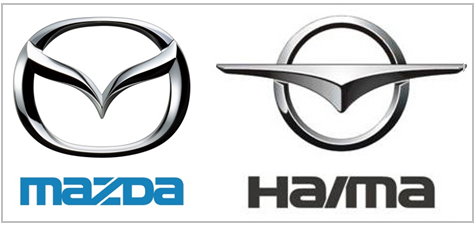 Haima is a marque of the FAW Haima Automobile Company based in Hainan. Haima was a joint venture between the government of Hainan and Japanese car manufacturer Mazda. In 2006 FAW Group acquired Mazda's stake in the joint venture and continues to use Mazda's technology and an identical branding.
Logos of the Bentley and Riich Brands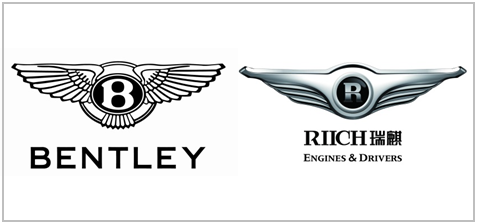 Riich is an upscale sub-brand of Chinese automaker Chery. Riich models include microvans, large sedans, a hatchback, a small sedan and a five door wagon. Riich's logo mimics that of Bentley Motors, the renowned British manufacturer of luxury automobiles, now part of the Volkswagen group.
Logos of the Toyota and Xia Li Brands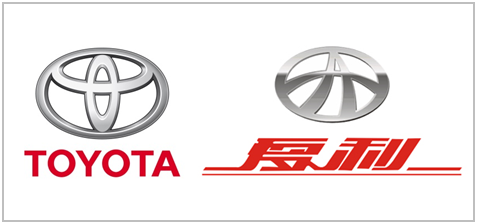 Xia Li vehicles are the Daihatsu Charade and manufactured by FAW Tianjin. FAW group also has a joint venture with between Toyota called the FAW Toyota Motor Co Ltd.
Logos of the Alfa Romeo and Englon Brands
Englon is also a marque of the Zhejiang Geely Holding Group, which owns manufacturing facilities in Lanzhou (Gansu province,) Xiangtan (Hunan province,) Jinan (Shandong province,) Linhai (Luqiao province,) and Ningbo in (Zhejiang province), and international plants in Indonesia, Sri Lanka, Malaysia, Russia, and Turkey.
Copies
In China, rip-offs of all sorts are common. Yet copying and plagiarism, from paintings to literary work to academic research papers, has a long tradition in China. Traditionally, it is considered a way of learning, and of indicating admiration. Recently there were reports of Chinese building replicas of architecturally significant towns and city sections from around the world.
Postscript
Geely (formally called the Zhejiang Geely Holding Group Co., Ltd) is the Chinese passenger car conglomerate that sells cars under five brand names, viz., Emgrand, Englon, Geely, Gleagle, and Volvo. Geely also owns Volvo Cars: Geely purchased Volvo Cars from the Premier Automotive Group of Ford Motor Company in 2010. Geely is headquartered in the Binjiang District of Hangzhou city.