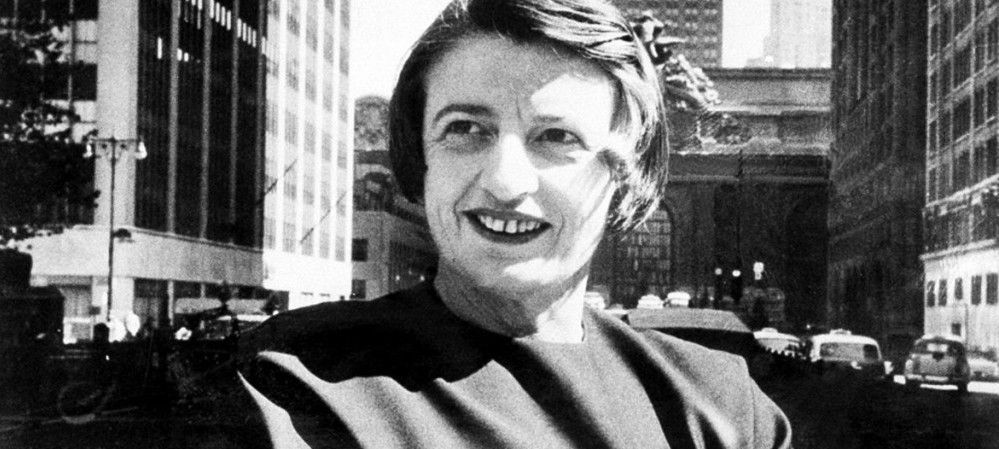 Ayn Rand's magnum opus, Atlas Shrugged (1957), encompassed her ideas of rationalism, individualism, and capitalism within a dystopian United States.
Ayn Rand fled Bolshevik-controlled Russia in 1926 to live where her ideas could breathe and thrive: in America. Her philosophy slowly took shape in the form of novels: We the Living (1936), Anthem (1938), and The Fountainhead (1943.)
Frustrated with her intellectual climate, novelist and lay philosopher Ayn Rand (1905–82) collected ideas from a variety of philosophers and cobbled them into a unique view that she named Objectivism. By the mid-forties, she had given her philosophy a name: objectivism. Objectivism so impassioned Rand that she ultimately gave her talent over to it. With the completion of Atlas Shrugged in 1957, she had metamorphosed from writer to philosopher. Her subsequent work focused upon creating the "new intellectuals" through objectivism.
Rand expounded on this personal worldview in her novel Atlas Shrugged, published in 1957. Rand defends Aristotle's ideas that reality exists objectively and authoritatively, that the laws of logic guide our understanding, and that consciousness is the seat of humans' ability to know. She defends the rationalist ideas that morality is objective and that conscious rationality bestows special moral significance. And she also defends the classical liberal idea that each person is obligated to respect every person's right to pursue her interests, so long as those pursuits do not interfere with another person's right to do so. Rand then argues that the only sociopolitical system consistent with these ideas is laissez-faire capitalism, that is, a free market economy.
One controversial implication is what Rand calls "the virtue of selfishness." Since each person is intrinsically valuable, one's primary moral obligation is to pursue one's own interests. This pursuit is limited only by the recognition that others are also valuable, and thus no one has the right to deceive or coerce others. Selfish interests cannot conflict because it cannot be in our interests to have something to which we have no right. Although some goods may result from collective action, such goods never justify the use of force.
Many would deny that Ayn Rand was a humanist, for many have seen only the political side of her philosophy or heard only the most sensational remarks she has made. But Rand's objectivism begs a higher level of understanding, a more holistic interpretation, which focuses not on the eccentricities of its founder but on its basic tenets. Objectivism, with humans its center and reason its instrument, in fact, rings of humanism.
Humanism is a broad term which has been applied to several disciplines—science, ethics, psychology—and no two people are likely to agree on any one interpretation. I will refer to a small number of unifying characteristics for the sake of this argument.
First of all, humanism is primarily concerned with humans—their self-actualization, fulfillment, and happiness on this Earth, in this life. Distinct from all other species on Earth, humans strive constantly to improve their lot herehence the term self-actualization—not simply to reproduce and exist. Humanism acknowledges humankind's intelligence and creativity, placing the power of humans' "destiny" in their own hands. And while humanism does not aggrandize human beings—they are but tiny specks in a small galaxy within a vast universe—they are seen as their own means and ends.
Humanism holds human intelligence sacrosanct; the ability to reason sets humans apart from all other life on Earth. Humanism is committed to this ability and to its nurturance and evolution. Curiosity has driven humankind to wonder about its surroundings, to ask "why" of all it experiences; humanism rewards this. Khoren Arisian, an ethics leader, recognized this distinction of humanism in his essay, "Ethics and Humanist Imagination," when he wrote: "If Existentialism yields a timeless mood and mysticism yields a timeless psychology, then Humanism yields a timeless imagination, a universal sensibility." It is their timeless imagination that will keep humans in search of the truth.
Finally, humanism abhors supernatural beliefs. Humanism sees dogma as a danger in that it tempts people to passively accept tenets without critical examination. Religion—in any form, a primitive and unscientific venture—is to be avoided. Furthermore, humanism teaches that human beings are accountable only to themselves, not to any supposed higher being. Humanity's savior, if there could be such a thing, would be humans themselves.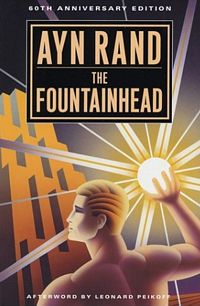 On all these points, Rand's objectivism agrees with humanism: her view of humans and their position in the cosmos, her upholding of reason as the course humankind must take, and her opinion of religion as the course humans must obviate.
Rand was an outspoken proponent of humankind; in her philosophy and in her fiction, she portrayed humans as survivors, idealists, and heroes. The Randian hero is cooperative and aids others not simply because he or she learned to through socialization but because these characteristics are incorporated into a personal value system, a matter of personal integrity. Rand explains in The Virtue of Selfishness: For instance, if one's friend is starving, it is not a sacrifice, but an act of integrity to give him money for food rather than buy some insignificant gadget for oneself, because his welfare is important in the scale of one's personal values. If the gadget means more than the friend's suffering, one had no business pretending to be his friend. Rand continues by arguing that survival, as well, is a matter of personal values: "If one values human life, one cannot value its destroyers." Humanism, in the Randian society, would not only be taught but would be integrated into the very value system of the individual.
Rand considered herself a student of Aristotle—the only philosopher she credited for her formulation of objectivism- owing the very name of her philosophy to his quest for objective reality. Humans are gifted with reason, which enables them to understand their external world and, at the same time, their own consciousnesses. Rand saw reason as humankind's only true knowledge and, therefore, as something which must be cultivated. According to Rand in The Virtue of Selfishness: For man, the basic means of survival is reason …. A process of thought is not automatic nor instinctive nor involuntary-nor infallible. Man has to initiate it, to sustain it and to bear responsibility for its results.
Religion, and the belief in some higher being to whom humans are obligated, is the antithesis of objectivism; it is in direct opposition to humankind's ability to reason through critical analysis. Religion teaches people to place the direction of their lives in the hands of an unseen other, to follow ancient dogma without question, and to belittle themselves in the process. "Death is the ultimate goal and standard of value," Rand writes of religion.
"Resignation, self-denial, and every other form of suffering, including self-destruction, are the virtues it advocates." Religious people, forsaking themselves, live for the day when they will be reunited with their God in death; the Randian person lives the life he or she has. Humanism and objectivism seem bound by the same thread: humankind and its survival, progress, and fulfillment on this Earth. Ayn Rand may not have been a humanist per se, but the scope of her philosophy is undeniably humanistic.
Ayn Rand said in Atlas Shrugged, "My philosophy, in essence, is the concept of man as a heroic being, with his own happiness as the moral purpose of his life, with productive achievement as his noblest activity, and reason as his only absolute."
Rand's philosophy continues to spark controversy, especially among those who argue that some "social goods" cannot be achieved by individuals and that unacceptable economic inequalities result from unregulated trade. Though not all capitalists would call themselves Objectivists, many cite Rand as a formative influence, including economist Walter Williams (b. 1936) and politician Ron Paul (b. 1935).