Open-air baths do not come more extraordinary than this. Nestled at the mouth of the Zao national park, the biggest of the steaming pools of purifying waters at the Zao Onsen is big enough to hold 200 people. The best part of the rustic dai rotem buro, a trio of bubbling outdoor pools, is a enormous tub built into a ravine with impressive views of the forest-covered mountains. Zao Onsen is one of the most well-known and long-established skiing & snowboarding resorts in Japan as well as a popular all year traditional onsen hot spring resort village. The water rushing from the hot springs will ease your joints in all seasons, leaving you totally relaxed.
Discovered as far back as 110 C.E., the Zao hot springs are the oldest of the three famous hot springs of Japan's northeast Tohoku region. According to local legend, an injured warrior drew an arrow from his body and cleaned the wound at a spring. The injury recovered inexplicably, and the healing properties of the waters became famous. The high acidity of the milky white waters, which preserve a constant temperature of nearly 125 deg F, is still regarded as a cure for skin conditions and gastrointestinal disorders.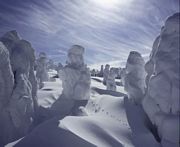 The village has managed to preserve its traditional charm and an virtually Zen-like sense of calm. After a soak in the springs, wander through the lantern-filled streets lined with rickety ryokan inns. A bus ride away from Yamagata bullet train station, Zao Onsen is as popular with skiers as with hot spring lovers. When snow falls, it is transformed into a winter wonderland with fantastic ice-covered trees, better known as "snow monsters." One of the oldest ski resorts in Japan, the mountain at Zao Onsen reaches an altitude of more than 4,000 feet. For the brave, the Wall is a 1,000-foot run with a 30-degree slope. For a more laid-back option, lights light up the piste for romantic night skiing.