On 25-Nov-2014, the Transport Workers Union (TWU) of America issued a half-page advertisement in USA Today bashing Southwest Airlines management about their baggage handling operations.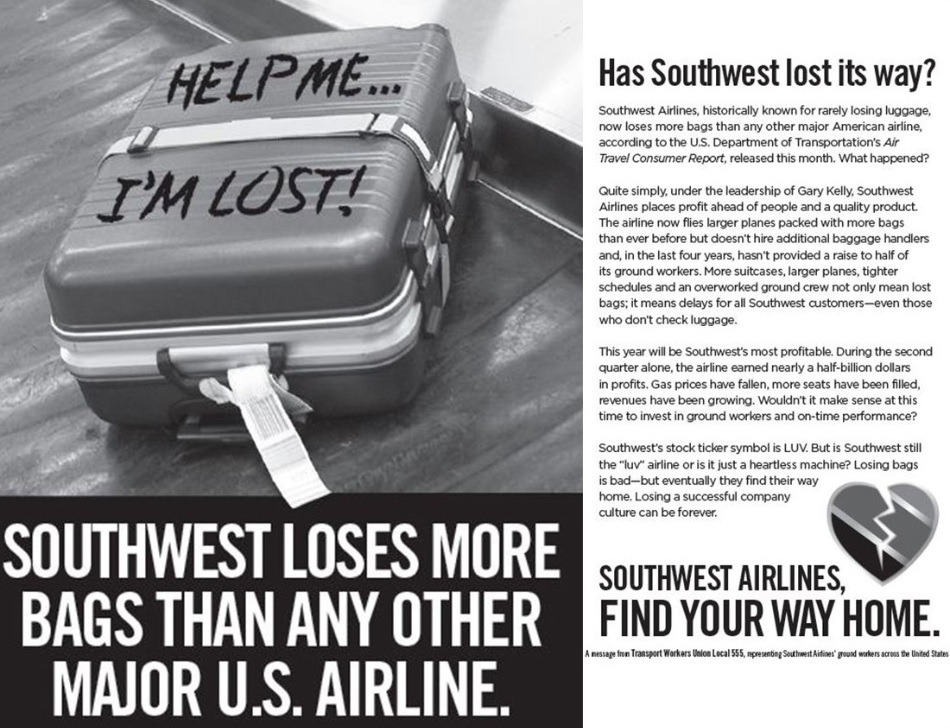 Southwest Loses More Bags Than Any Other Major U.S. Airline.

Southwest Airlines, historically known for rarely losing luggage, now loses more bags than any other major American airline, according to the U.S. Department of Transportation's Air Travel Consumer Report, released this month. What happened?

Quite simply, under the leadership of Gary Kelly, Southwest Airlines places profit ahead of people and a quality product. The airline now flies larger planes packed with more bags than ever before but doesn't hire additional baggage handlers and, in the last four years, hasn't provided a raise to half of its ground workers. More suitcases, larger planes, tighter schedules and an overworked ground crew not only mean lost bags: it means delays for al Southwest customers—even those who don't check luggage.

This year will be Southwest's most profitable. During the second Quarter alone, the airline earned nearly a half-billion dollars in profits. Gas prices have fallen, more seats have been filled, revenues have been growing. Wouldn't it make sense at this time to invest in ground workers and on-time performance?

Southwest's stock ticker symbol is LUV. But is Southwest still the "luv" airline or is it just a heartless machine? Losing bags is bad—but eventually they find their way home. Losing a successful company culture can be forever.
The TWU posts advertisements which are intended to be perceived as harmful to the airline in order to attempt to extort a better package.
Although the "facts" being displayed in this union-paid ad are certainly up for debate, there's no doubt that the workload of the rampers has increased because Southwest is the only airline that doesn't charge checked baggage fees.
This is the latest manifestation of the dramatic evolution that has Southwest over the years, both from external and internal forces. In a nutshell, economic reality is now catching up with Southwest Airlines. The fuel hedges are spent, the network carriers have restructured and merged, and at the same time Southwest has gone from being pretty much the lowest-cost operator in the market to middle-of-the-pack and has high labor costs than ultra-low-cost carriers such as Spirit Airlines.
Southwest has to control costs somewhere to remain competitive. They've probably tried, to at least some extent, to do it through productivity gains, by making rampers do more with less (same workload with fewer rampers, or increased workload with same number of rampers). But that, too, of course, has its repercussions, such as the one detailed in this TWU advertisement.
While paying employees well and treating them with respect will ensure better performance, Southwest Airlines is having to learn to cope in a more challenging economic environment, especially as to cost. Reduce cost, increase productivity – something has to give.
Southwest Airlines recognized this as union propaganda and integral part of contract-negotiation season. To the union bosses, nothing's ever enough … their workers are always underpaid and under-appreciated. Southwest Airlines spokeswoman Brandy King responded,
Although it's a common practice, informational picketing does not change the Company's approach to negotiations. We continue to share the Union's sense of urgency to secure a fair agreement. Reaching the right deal for both Employees and the Company remains a top priority; and it must be one that is fair to all Employees, enables the Company to grow, and protects our position as a low-cost leader in the industry.

We have a renewed focus and effort on improving baggage delivery and over the past few months, we've seen a steady decline in our mishandled baggage rate. In October, we proudly delivered approximately 99.5 percent of our bags correctly and we continue to see improvements.

Regarding the number of bag carried, the packing habits of Southwest passengers haven't changed. Customers continue to pack the same number of bags since the "Bags Fly Free" campaign was initiated in 2008. What the campaign has done is attract more Customers to Southwest, improving the bottom line. At the same time, the number of bags carried on other airlines has decreased, which improves their overall DOT ranking.

As the number of Southwest Customers increase, we continue to hire in response to that growth. Over the last three years, the annual number of bags handled per Ramp Agent has steadily declined, not increased.