As 2013 drew to a close, Instagram looked back on the year on Instagram to report the location trends to find the most-Instagrammed places of 2013.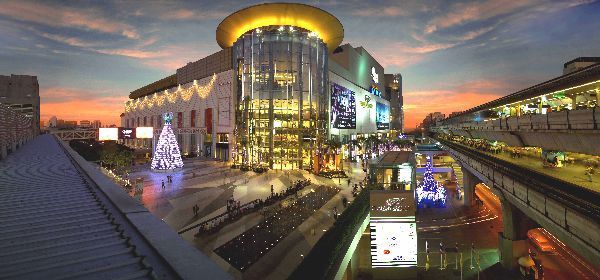 Most-Instagrammed #1: Siam Paragon Shopping Mall, Bangkok, Thailand
Siam Paragon, located in the center of Bangkok, has attracted large crowds since it opened as one of the largest shopping centers in Asia opened in 2005. The shopping mall includes wide variety of specialty stores, restaurants, multiplex cinemas, an exhibition hall, an opera concert hall, a large bowling alley, karaoke centers, the Siam Ocean World aquarium, and the Thai Art Gallery.
Most-Instagrammed #2: Times Square, New York
One of the world's foremost iconic urban tourist hubs is the brightly illuminated busy pedestrian intersections of the Broadway Theater District are "The Crossroads of the World." Renamed from Longacre Square to Times Square in 1904 after the Midtown Manhattan's district's new cornerstone New York Times building.
Most-Instagrammed #3: Disneyland, Anaheim, California
The "Happiest Place on Earth" created in 1928 by animator Walt Disney, Disneyland Anaheim consists of two parks: the original Disneyland and California Adventure which is also owned by Disney located opposite Disneyland. Downtown Disney is an area outside of the two parks with restaurants, shops, and hotels and can be accessed even without a park ticket.
Most-Instagrammed #4: Fountains of Bellagio, Las Vegas
Located on an 8.5-acre lake at the Bellagio luxury hotel and casino on the Las Vegas Strip, the fountains of Bellagio explode 1,214 spritzers shooting water up to 460 feet in the air. Brilliantly choreographed to opera, classical and Broadway tunes, the performance of water, music and light mesmerizes its admirers every half-hour between 3:00 PM and 8:00 PM, and every 15 minutes from 8:00 PM until midnight.
Most-Instagrammed #5: Walt Disney World Resort, Orlando, Florida
Located in Lake Buena Vista outside Orlando and familiarly known as Walt Disney World or simply Disney World, is a 42,000-acre, 66-square mile is the world's most visited attraction with attendance of 52.5 million annually. Animator and visionary Walt Disney not only wanted Disney World to be a fun theme park, but also to include an experimental prototype community of tomorrow (EPCOT) that would be a real working futuristic city. Disney World opened in 1971, five years after the death of Walt Disney. Walt Disney World consists of Magic Kingdom, the original theme park on the complex, and EPCTOT, Disney's Hollywood Studios, and Disney's Animal Kingdom.
Most-Instagrammed #6: Staples Center, Los Angeles
Staples Center is a large multi-purpose sports arena in Downtown Los Angeles and home to the Los Angeles Lakers (NBA,) the Los Angeles Clippers (NBA,) the Los Angeles Kings (NHL,) and the Los Angeles Sparks (WNBA.)
Most-Instagrammed #7: Central Park, New York
The iconic urban 840-acre park in Manhattan gets 35 million visitors annually and is the most visited urban park in the United States. Central Park's designers had a simple objective: to develop a place where city dwellers can go to forget the hustle and bustle of the city. The park's meandering paths, tranquil lakes, ponds, and open meadows feature d1ww Strawberry Fields (a memorial to John Lennon,) a 14-acre oval Great Lawn, Central Park Zoo, and the decorative, three-tiered Bethesda Fountain.
Most-Instagrammed #8: Dodger Stadium, Los Angeles
Home ballpark of the Los Angeles Dodgers team since 1962, this stadium in downtown Los Angeles was where the Dodgers ever clinched a World Series at home by beating the New York Yankees 2-1 in game 4 during 1963 World Series. The Dodger Stadium was also host to the opening ceremony of the 1991 U.S. Olympic Festival and a l5042o public Mass held by Pope John Paul II in 1987.
Most-Instagrammed #9: Suvarnabhumi Airport (BKK), Bangkok
Named "Golden Land" in Sanskrit, Bangkok's prominent airport is the fourteenth busiest airport in the world and the sixth busiest airport in Asia. Suvarnabhumi is the base-hub of Thai Airways International, Bangkok Airways and Orient Thai Airlines.
Most-Instagrammed #10: The High Line, New York
This 1.45-mile-long extraordinary public park was built and opened in 2011 for the preservation of an abandoned, elevated freight rail line along New York's Westside waterfront. Joshua David and Robert Hammond, civic-minded residents of the New York neighborhood that the High Line ran through, were inspired by Promenade Plantee in Paris. The High Line has quickly become one the Big Apple's most popular landmarks.
The Most-Instagrammed Cities of 2013
New York City, NY, USA
Bangkok, Thailand
Los Angeles, CA, USA
London, UK
Sao Paulo, Brazil
Moscow, Russia
Rio de Janeiro, Brazil
San Diego, CA, USA
Las Vegas, NV, USA
San Francisco, CA, USA
Top 10 Most Instagrammed Spots In 2012
Suvarnabhumi Airport, Bangkok, Thailand
Siam Paragon, Bangkok, Thailand
Disneyland Park, Anaheim, California
Times Square, New York
AT&T Park, San Francisco
Los Angeles International Airport, Los Angeles
Dodger Stadium, Los Angeles
Eiffel Tower , Paris
Staples Center, Los Angeles
Santa Monica Pier, Los Angeles