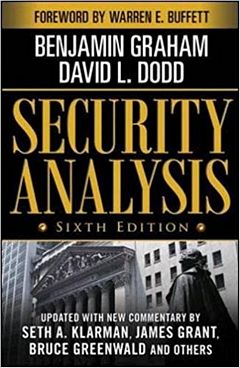 Venture investing plays an important role in entrepreneurship not only because financial resources are important to new ventures, but also because early investors help shape the ventures' managerial and strategic destiny. Value investing is conceivably the most prevalent and durable style of investing.
However, despite its reputation, the theoretical foundations of value investing have developed little since the ground-breaking work of Benjamin Graham and David Dodd espoused in their classic Security Analysis (1934). They advise value investors to focus their attention on securities "which are selling below the levels apparently justified by careful analysis of the relevant facts." They further encourage value investors to concern themselves with "the intrinsic value of the security and more particularly with the discovery of discrepancies between the intrinsic value and the market price." In providing wide-ranging guidance for the estimation of intrinsic value, they write down that:
In general terms it is understood to be the value which is justified by the facts, e.g. the assets, earnings, dividends, definite prospects, as distinct, let us say, from market quotations established by artificial manipulation or distorted by psychological excesses. But it is a great mistake to imagine that intrinsic value is as definite and as determinable as is the market price. Some time ago intrinsic value (in the case of common stock) was thought to be about the same thing as "book value," i.e. it was equal to the net assets of the business fairly priced. This view of intrinsic value was quite definite, but it proved almost worthless as a practical matter because neither the average earnings nor the average market price evinced any tendency to be governed by the book value. Hence this idea was superseded by a newer view, viz., that the intrinsic value of a business was determined by its earnings power. But the phrase "earnings power" must imply a fairly confident expectation of certain future results. It is not sufficient to know what the past earnings have averaged, or even that they disclose a separate line of growth or decline. There must be plausible grounds for believing that this average or this trend is a dependable guide to the future.
Variation in long-horizon security returns is governed by fundamentals. Reckoning the prospective yield by aggregating expected earnings over more than a few future years dominates existing approaches to measuring value. This analysis highlights significant opportunities for improvement in the relative-value metrics used by academics and practitioners. To determine the source of variation in future stock returns to various investment strategies. The book-to-market ratio is a comparatively poor measure of value and that much of its prognostic ability with respect to future stock returns appears to arise from other sources.
Renowned investor Howard Marks (b. 1946) of Citibank, TCW Group, and Oaktree Capital Management at "Investor Series" interview with Oaktree founder and American investor Bruce Karsh at Wharton School, University of Pennsylvania:
There's no such thing as analysis of what's coming. We don't know anything about the future, and you can't prove anything about the future.

But if you've been in business and you've seen some cycles, and you've gained some experience and you've gone through those cycles with your eyes open saying "What are the implications of cycles for our behavior?", then I think you can reach a point where you say, "You know what, it just feels like the power is in the hands of the issuers, not the buyers. It feels like there aren't many sellers, just a lot of buyers. And the market is not acting in a disciplined way."

We want to buy when the market in panicked, not when the market is sanguine. [Warren] Buffett says that "The less prudence with which others conduct their affairs, the greater the prudence with which we must conduct our own affairs."

When other people are optimistic, we should be worried. When other people are panicked, we should turn aggressive.
Comports with Sir John Templeton's famous dictums "If you want to have a better performance than the crowd, you must do things differently from the crowd" and "Invest at the point of maximum pessimism."