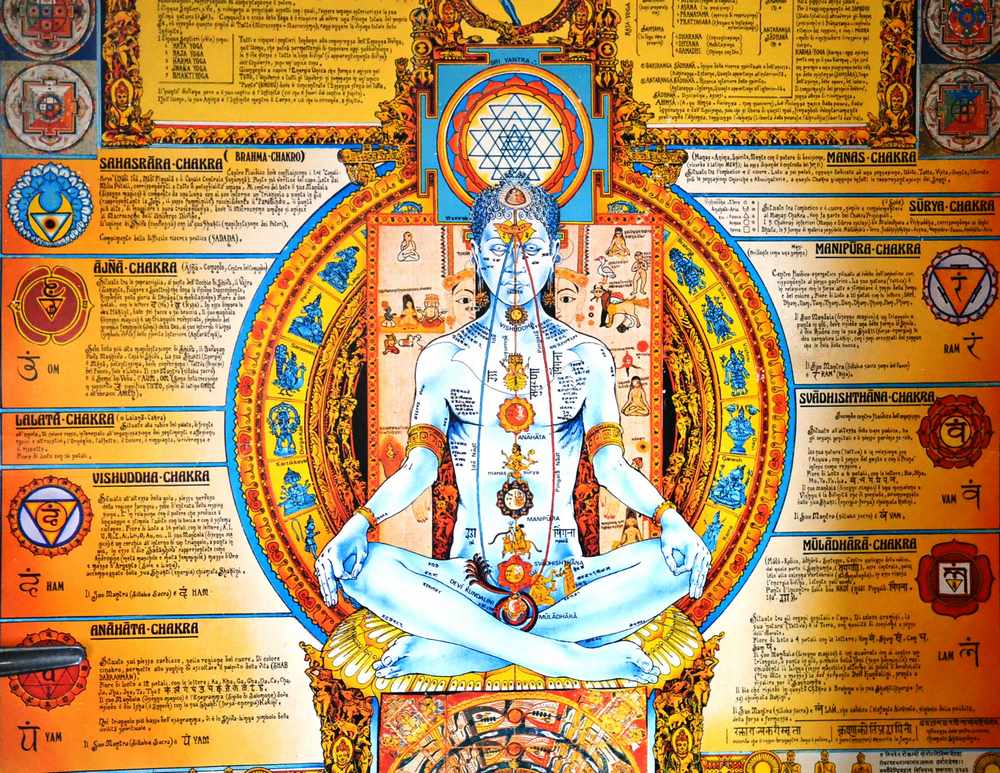 Chakras are energy-collection centers of the body that are essential for physical and mental health.
In the traditions of Buddhism and Hinduism, chakras are centers of energy that correspond to parts of the body. A non-physical life force is said to travel through the body, and each chakra is linked to a part of this force. Chakras exist in the body along a central channel and are connected to vital bodily functions, including consciousness, vision, communication, health, digestion, reproduction, and survival.
In the most common understanding of the system, each chakra is associated with a deity, color, bodily organ or set of organs, and a mantra (a transformative sound or syllable). Bringing the energy of the body in line with the central channel and the chakras is possible through meditation, and this process of alignment plays an important role in achieving fulfillment and enlightenment. Shri Mataji Nirmala Devi, founder of Sahaja Yoga, said "Kundalini [a corporeal energy] will rise and always cleanse the chakras."
The idea of chakras is an ancient one and it is found in Sanskrit documents and in oral traditions of both Buddhism and Hinduism. "Breath channels," for example, appear in the Hindu Vedas, produced in India between c. 1500 and c. 500 BCE. The idea of a hierarchy of the chakras was introduced later, in eighth-century Buddhist teachings. There is no standard interpretation of chakras in either religious tradition, with chakra systems varying from teacher to teacher within the same religious tradition.
Chakras are essential if we are to understand the body as a system of energy. Two of the five major world religions are built on the idea that human beings are capable of making peace within themselves as a result of energy systems within the body. The chakras are key to unlocking this inner power.
The theory of chakras plays a crucial role in two age-old Indian remedial systems (Ayurveda medicine and yoga) that are well-liked today. In recent decades, though, many contemporary actions (like polarity therapy, therapeutic touch, process acupressure, core energetics, and color therapy) have likewise integrated the concept of chakras into their own prophecies of restorative healing. Diverse approaches may be used to "balance" the chakras.