Starbucks COO Kevin Johnson is the right replacement for CEO Howard Schultz
Starbucks CEO Howard Schultz has called it a day, and that's causing some investors a bit of worry, primarily because the coffee giant struggled the last time Schultz left in 2000.
Kevin Johnson, the current president and chief operating officer of Starbucks, will take over as CEO. Johnson is a 30-year veteran of the tech industry held senior leadership roles for 16 years at Microsoft and a five-year stint CEO of Juniper Networks.
Johnson's consumer technology background is impressive and is a key asset for Starbucks in expanding the company's already-leading digital platform across channels and geographies in the years to come.
Former Starbucks COO Troy Alstead Quit in January 2015
When Starbucks' longtime COO Troy Alstead quit, Schultz wrote, "Looking back on the 23 years we spent together side-by-side as Starbucks colleagues, I can recall so many memorable moments and accomplishments in which Troy can take pride in a job well done. Troy is a beloved Starbucks partner and has played an invaluable role in our growth as an enterprise and in the development of our culture as a performance-driven company balanced with humanity, which is unique for our industry. Troy's humanity and humility will be missed and we wish him the best."
Schultz Focused on Sustaining Revenue
For the last several years, Schultz focused on sustaining revenue growth by moving beyond his coffee house roots. In 2012, he purchased Teavana as another brick in the road, which has encompassed instant coffee, energy drinks, juice, a single-serve brewer and food to sell in its shops and in grocery stores. In 2013, Starbucks and yogurt-maker Danone, declared a plan to cooperatively create an assortment of specialty yogurt products in contributing Starbucks stores in 2014 and in grocery channels in 2015 as part of the coffee chain's growing Evolution Fresh brand. With cafe-like atmospheres and a brand that evokes a high-quality customer experience, Starbucks appreciates pricing power benefits over nearly all specialty coffee peers. This will be expanded by the development of the Starbucks Reserve sub-brand to deliver exclusive, higher-end coffee blends.
While Schultz's forethought and attention to customer experience have been significant motives that Starbucks has established one of the widest-moat and most consistent growth stories in the global consumer coverage universe, Starbucks has one of the deepest benches in the consumer sector. While most of the focus is technically on new CEO Johnson and his wide-ranging consumer technology background, Schultz will still be immersed with the development of Starbucks' Premium Roastery and Reserve stores.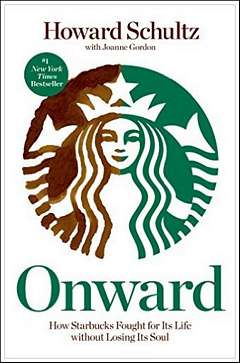 Don't liken Schultz's switch to that of 2000, when he undertook the chairman role and assigned Jim Donald as CEO. Schultz ultimately returned as CEO in 2008 in the wake of disappointing sales figures and a "watering down of the Starbucks experience". In his turnaround memoir Onward: How Starbucks Fought for Its Life without Losing Its Soul, Schultz wrote "The merchant's success depends on his or her ability to tell a story. What people see or hear or smell or do when they enter a space guides their feelings, enticing them to celebrate whatever the seller has to offer. Intuitively I have always understood this. So when, in 2006 and 2007, I walked into more and more Starbucks stores and sensed that we were no longer celebrating coffee, my heart sank. Our customers deserved better."
How Starbucks Became Successful
Brand, channel, and technology advantages have positioned Starbucks for a long runway for growth:
Starbucks coffee is robust, and people get used to the taste, making it difficult for them to be content somewhere else, either to coffee chains such as Dunkin' Brands, Tim Hortons, or McDonald's. Joh. A. Benckiser's amalgamation of Mondelez's coffee properties (D.E Master Blenders, Peet's, Caribou, Einstein Noah, and Keurig) are emerging as Starbucks's noteworthy competitors. Despite the tenacity of the legend, Starbucks doesn't really burn its beans. Nonetheless it uses two tablespoons of coffee per 6 ounces of water, which is beyond a lot of other places.
Decades ago, in many markets, the only place a customer could get a cappuccino was a restaurant, and there indeed weren't any flavored or distinguished coffees anywhere. Starbucks was the pioneer in bringing those to the masses. There's countless brand loyalty they've built up over the years. As good the coffee beans are a good amount of training goes in the way they make specialized drinks. Wet, dry cappucino, lattes in perfect ratios of coffee, milk and foam.
Starbucks has been known for being pretty generous to its employees, together with presenting full benefits to those working as a minimum 20 hours per week. That made customers feel good about buying coffee there.
Customers appreciate the consistency of Starbucks products. A customer can go to a Starbucks pretty much anyplace in the world, and know what they're getting. A grande vanilla latte will be on the menu and taste the same whether in Seattle, New York, London, Istanbul, or Moscow.
The Recipe to Starbucks' Success
Yet same-store sales have been decelerating, however from very high levels, and the company ran into difficulty the last time Schultz stepped back from the CEO role. Regardless of impressive growth plans, and commodity cost and foreign currency volatility, Starbucks can endure a 40%-45% dividend payout ratio over the next decade.
Some analysts and investors aren't worried about the management change. Wells Fargo's Bonnie Herzog acknowledged that while Schultz's departure is "a loss, in our view the show must (and will) go on" and added, "While we acknowledge that Schultz is without question one of the strongest and most visionary leaders in the consumer/retail world, we believe the succession planning put in place several years ago assures the recent exceptional performance will likely continue."
Starbucks Future Strategy for Invigorated Growth
Speaking of how Starbucks' invigorated food and beverage menu and store reformats have uplifted the Starbucks customer experience, pierced new markets and times, and enhanced unit-level productivity metrics, Herzog also wrote,
The leadership change announced today has been a long-time in the making, starting nearly 3 years ago with the shuffling of the senior leadership team, and subsequent promotion of Johnson in early 2015 to the role of President/COO. We believe that Johnson is a very capable leader, with strong experience working side-by-side Schultz for the past two years. Importantly Johnson has an exceptionally good relationship with Schultz, which should keep Schultz sufficiently removed to allow Johnson to lead effectively given his trust in Johnson, while also remaining sufficiently nearby to ensure the ship remains on course… We believe Johnson's technology background positions him well to ensure SBUX's mobile and digital initiatives—key to SBUX's long-term success, in our view—will remain a primary focus of the company. Importantly, Schultz will remain focused on his ongoing efforts to premiumize the SBUX brand and experience through Roastery and Reserve stores, which should support accelerated innovation and allow the broader store network led by Johnson to continue to thrive.
Investors are also cheerful about Starbucks' mobile, digital, and loyalty program collaborations across the various business lines, affiliations with Spotify, New York Times, and Lyft, and new payment technologies. Starbucks' worldwide opportunities are undisputable–particularly in China, India, Japan, Brazil, and Eastern Europe–and Starbucks will apply its best practices from the U.S. to accelerate its growth aspirations.
Starbucks has organized an investor meeting next week, during which its leaders are expected to release news on current and future initiatives.