This peaceful town might be just 31 miles from Tokyo, but it feels like a world away. There are no high-rise buildings reaching dizzyingly up into the sky or neon-lit karaoke bars here. Kamakura was the capital of Japan during the shogunate from 1185 to 1333, when it was the fourth-largest city in the world.
Steeped in history, it is the antithesis of the modern capital. Day-trippers from Tokyo flock here to enjoy the cooling sea breezes while they visit the Buddhist temples and Shinto shrines. Surrounded to the north, east, and west by mountains and to the south by the waters of Sagami Bay, Kamakura is a natural fortress. The scenery is as spectacular today as it was in its heyday all those centuries ago.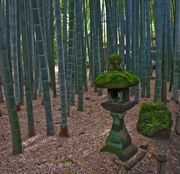 Kamakura's landmark is the monumental bronze statue of the Buddha, called Kamakura Daibutsu or The Great Buddha of Kamakura, which looks out over the city. Located at the Kotokuin Temple, this giant bronze statue of Amida Buddha, has been established since the year 1252 and has survived numerous typhoons and tidal waves throughout the history of Kamakura.
During the thirteenth century, Kamakura was also the cradle of Nichiren Buddhism. Nichiren was not local; he was born in Awa Province, but came to the political center of the country to teach, and the town has been associated with him ever since.
The bamboo forest by the Hokoku-ji Temple is famed for its beauty and Zen-like serenity. To see Kamakura at its best, follow the three-hour walk from the Tokeiji, up through the forest to the Kotokuin. Go to the Zeniarai Benten Shrine to see the money-washing ceremony, which purifies offerings, and drop in on temples along the way. The only sound you will hear is the song of nightingales as you pass blooming purple irises and abundant plum trees. The city is not all about ancient history. The beach is a big attraction, as well as the senbei—crisp rice cakes grilled and sold fresh along the main shopping street. Try one for a taste of the real Japan.