In meeting deadlines, top performers apply seven key principles. This change management is not intended simply to permit the company to endure a few more years—it is proposed to set the company on a path to greater success and thus virtuous jobs for those who remain.
Another is that a blindly optimistic self-explanatory style of deadlines might actually promote a reduction in effort as we might not try as hard if we believe our ability eliminates the need. For the following reasons, I consider this behavior neither compassionate nor moral.
Principle #1 for Meeting Deadlines: Schedules are Sacrosanct
Task teams express a reverence for "the schedule" as the single most important deadline management tool, even though people search for more colorful, personality-driven keys to victory. But it is precisely its implacability that makes a schedule so stable, incorruptible, and enforceable. Amendments to schedule can't be made capriciously. Changes should be rare, even agonizing, since each adjustment threatens to compress the final stages. Schedules become impersonal enforcement tools, because they do not respond to appeal. The manager can say, "It's not me—it's the schedule that's pushing us all, and we need to keep pace."
Schedules are not dreamed up by distant executives who then hand them down to task teams, along with deadline dates. All long-term projects are guided by realistic, believable, timelines that benefit from the insight and input of those doing the work. Schedules codify the ambition and enable synergy.
Within each timeline, milestones are set—and celebrated as they are met. These mini-deadlines make the program more manageable, attainable, and comprehensible those who are focused on their part. When milestones are in jeopardy of not being met, alarm bells go off in the minds of project managers and team leaders. All are affected by slippage along the critical path. A milestone won't be "bumped" unless, and until, the team knows why it is in jeopardy. Allowing more time won't necessarily correct the process. Margins of time and budget are factored into each schedule and managed by the teams.
Principle #2 for Meeting Deadlines: Partnering
Deadlines involving major, long-term projects are met jointly; the distance between customer and those who serve are bridged in the interest of expediency. Leaders see that their races against time must be run in unison.
While companies discover many rewards in the closer relationships and find that the doors of communication, once opened, are difficult to close, their original motivation is often to save time. "Business as usual" won't suffice under the conditions of a major deadline. Competitive companies need each other to win. Deadlines are often joint ventures, since few organizations can go it alone. Even global industrial leaders depend on the unstinting cooperation of customers and suppliers to bring their projects in on time. Conversely, much is expected of them. Reciprocation is possible by modifying billing and payment practices, or by waving long-standing bureaucratic requirements, or by re-routing time-consuming communication paths, or by modeling teams to reflect those of the partner. Customers and contractors like feeling part of the delivery process.
Principle #3 for Meeting Deadlines: Willingness to Accept Risk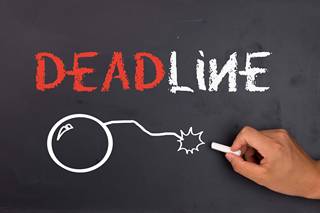 Deadlines involve risk. The risks inherent in these projects are not accepted by swashbucklers who revel in danger but by serious professionals who seek ways to reduce the risk—by preparing backup plans, brainstorming creative solutions, and even taking out insurance policies. The risk is accepted, then reduced, to improve the odds to succeed, to make a profit, or to reduce casualties. The willingness to take a chance defines an organization in ways a thousand ads cannot. Word gets around. Companies and individuals who take on risk, and prevail, develop reputations as giant killers.
Something in the nature of "risky" operations binds teammates together. The "sink or swim" mentality of great teams is responsible for innovations that bring their projects in on time. Participating in these deadlines is not simply another day at the office for those involved; these are adventures. Those who pass through the whitewater of a serous deadline can look back on the "nervous time" with a nostalgic pride. "Risk" creates common cause, even more than "reward." Lackadaisical groups will suddenly become focused and serous once risk is introduced.
Principle #4 for Meeting Deadlines: Company Men and Women
Challenging deadlines are met most successfully by "company men and women" whose most obvious credential is tenure (average of 25 years of service). No one looks forward to retirement (in fact, they seem to dread the day), and all seem to thrive on the formidable tasks assigned to them. While those people are ambitious, success seems to be measured less by personal recognition and more by participation on a job well done. None of them are coy about their futures with the company. "I love it here," and other expressions of affection and loyalty are heard frequently. Company men and women are usually portrayed as obstacles to bold, forward-thinking newcomers, but they are precisely the people you want tasked with a significant deadline. They are less likely to look on a project as a feather in their caps and more likely to factor in the long-term interests of the company and of the customer (which are complementary).
If you don't have tried-and-true employees with years of service, entrust deadlines to employees who are sincerely interested in a career with the company. Team players who distinguish themselves by helping others are prime candidates, as are those who demonstrate a real concern for customer satisfaction. Managers must take an active role with a team of fresh faces and lead by example, in creating a sense of mission so compelling that the team will be carried in their wake.
Wise managers assume that peak performers are always being courted by the competition, and could, without proper attention, be gone in the blink of an eye.
Principle #5 for Meeting Deadlines: Family Outreach
The popular stereotype of an executive who sacrifices family for career is somewhat of a contradiction, because, clearly, business success is not sustainable without a strong emotional base. A hard-driving executive plagued by personal problems, distracted by divorce proceedings or custody battles, can't focus on the job at hand—and may even exacerbate his or her situation by finding a comfort of sorts in alcohol or drugs.
The wise manager recognizes the importance of family and finds ways to involve the "other half" of the deadline team and to enlist their support in the pursuit of the deadline.
When George H. Bush announced the beginning of the first Gulf War in 1990 a cheer was reported at a professional basketball game, and it was to enter into it with anything other than a heavy heart. I know now why that cheer went up, though. The spirit of abstraction.
Leverage the tasks you want to do by withholding them until your more odious tasks are completed first. That way, desirable tasks become a motivating reward.
Principle #6 for Meeting Deadlines: Making it Easy for the Customer
Legal and human resources constrictions counteract names from being released until the selection is complete and the official communications and severance packages are ready. Employees know the moment is coming, but little else.
Thinking in terms of the customer's deadline and of ways to facilitate the up-line obligations to yet another level of customers or end users is characteristic of great companies. Great organizations never lose sight of the big picture, which includes the customer meeting its own deadline. Great conversations are like anything. Success is usually not an accident. It's planned. Each company has a reputation as a dependable azlly who will not let the customer fail. That's true, but letting people go is far easier from a legal standpoint if you've established and documented a strong case for why a particular employee doesn't fit with your culture—and exactly what that means.
Principle #7 for Meeting Deadlines: Willingness to Ramp Up
Most teams have to ramp up to meet their deadlines. It isn't as if they can meet their challenges the way they are. The challenges they accept are complicated by the steps that need to be taken to meet each deadline—and yet they are not intimidated by the deadlines, nor by the requirements to meet them.
Definitely, we can imagine naysayers. But, the decisions of senior management to accept the challenges have positive repercussions. Organizations are transformed by the requirements to meet the challenges they willingly accept.
Authorize them to communicate and lead, not to just passively watch their departments be clipped without a rationale.
Conclusion: Seven Principles for Meeting Deadlines
Those involved in setting the deadline feel driven by the schedule, but they are not emotionally overwhelmed. That's not strong enough, and it's not quantifiable. By most quantitative standards, the employee is doing great work. In fact, enforced schsedules offer a sense of relief: You then know exactly what must be done daily to be victorious, and even when "off schedule," you know what must be done to get back on track. Deadline busters willingly bow to the Schedule God, obeying the truest guide to victory in the race against time.
What it is, therefore, matters a great deal, for studies show that what we choose to meet deadlines strongly influences our ability to be happy. Pursuing meeting deadlines, for example, actually tends to decrease our happiness in the long run. Pursuing altruistic goals, on the other hand, is one of the few things that actually increases it.